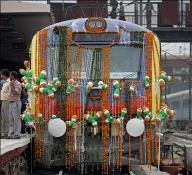 Indian Railways earns 65 per cent of its total revenues from moving goods while over one-third of earnings go into paying wages and allowances.
The Railways in 2010-11 earned 65 paisa of every rupee from goods traffic (transporting items like coal). Its earning from passenger tickets was 27 paisa against 26 paisa in the previous fiscal.
At the same time, the Railways spent 37 paise of every rupee earned towards paying staff wages and allowances and another 16 paisa for meeting pension fund obligations, as per 2010-11 figures.
Fuel is the second largest expense item and the Railways spent 17 per cent (or 17 paisa of one Rupee) of the revenue under the head.
Besides, miscellaneous expenditure of the Railways is to the tune of 9 paisa.
Railway Minister Dinesh Trivedi, who presented the Railway Budget 2012-13 in Parliament today, has projected freight earnings at Rs 89,339 crore, a growth of 30.2 per cent over the current year revised target.
The Railways is targeting to carry 1025 million tonne of revenue earning originating traffic during 2012-13, which is 55 million tonne more than the revised estimate target of 970 million tonne, he said.
With the increase in number of trains and higher occupancy, he said, the number of passengers is expected to increase by 5.4 per cent in the year 2012-13.
The passenger earnings have been kept at Rs 36,073 crore, an increase of Rs 7,273 crore over the revised estimates of the current year, he added.
Union Budget 2012-13: Complete coverage