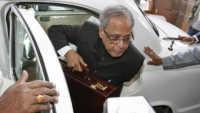 The NRI community in the Gulf had mixed feelings for the Budget, as some of them welcomed the hike in duty on gold while some others were disappointed by increase in service tax and excise duty.
ITL Cosmos Group President Ram Buxani said increase in the customs duty on gold will help Dubai's business.
On the hike in service tax and excise duty in the Budget presented by Finance Minister Pranab Mukherjee, Indian Business Leaders Forum President Sudesh K Aggarwal said, "The common man will get adversely affected due to the increase in the indirect taxation - such as increase in the excise duty and service tax."
"The government should have focused more on widening the tax base and bringing more people on the tax net through effective management than increasing the tax at this juncture," he added.
However, he termed the delay in implementation of the Direct Tax Code as a positive step and appealed to the government that the demands of the NRIs should be kept in mind as and when DTC is implemented and 'status quo' should be maintained as regards to their number of days of stay in India.
Adil Rasheed, an Abu Dhabi-based academician and researcher, said this budget merely confirms fears of most Indians.
"The 5.9 per cent budget deficit to be funded by money printing, thanks to 70 per cent odd debt-to-GDP ratio, merely shows that
the bloated government will squeeze the tax payer further.
"By increasing indirect taxes, particularly service tax from 10-12 per cent and by pledging to reduce subsidies, inflation will skyrocket as the hardworking Indian will be made to pay for government profligacy," he said.
He further stated that increase in the direct tax slabs is hardly a relief given the near double digit rise in inflation.
"It would have been better if the government had reduced the high rate of taxation (as high as 30 per cent in the higher bracket and even more painful in the lower ones. It would have reduced black money and promoted investments.
"However, poor infrastructure, fall of export-driven industry, collapsing agriculture and widespread corruption will further thwart the promise of the enterprising Indian," Rasheed said.
On the other hand, K V Shamsudheen, Chairman, Pravasi Bandhu Welfare Trust appreciated the Finance Minister for his direct support to the capital market by introducing Rajiv Gandhi Equity Scheme and tax exemption for small investors.
"His proposal to increase the agriculture credit of Rs 5,75,000 crore and 3 per cent interest subsidy for farmers will be boost to agriculture sector.
Union Budget 2012-13: Complete coverage