Rajesh Sud, CEO and managing director of Max New York Life Insurance

At a macro level the Union Budget 2012-13 is a balanced one. The Finance Minister has taken step to create an environment for sustainable growth. The marginal increase in exemption limit on personal taxation to Rs 2 lakh and realignment of tax slabs would leave more money in the hands of the consumers.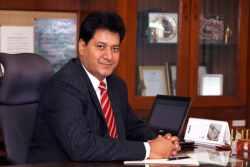 However the increase in exemption limit is lower than expected especially given high inflation rate. By increasing additional income tax relief to investments up to Rs.60,000 in long-term infrastructure bonds the Finance Minister has given incentive to long-term savings and provides additional capital for infrastructure sector.

Finance Minister's assurance that Insurance Amendment, Pension and Banking Bills will be presented in this session, shows his commitment towards reforms in financial services
sector.
With respect to the life insurance sector the recommendations related to tax exemption under 80 C and 10 (10D) and increase in service tax would bear a substantial impact.
The service tax in products with explicit mortality charges will increase from 10 per cent to 12 per cent of the mortality charges where as in others the service tax on first year premium would increase from 1.5 per cent to 3 per cent of the gross premium.
This will result in having different amounts for the first year premium and renewal premium in participating and annuity products, thus resulting in administrative challenges.
The new limits for tax exemption eligibility under section 80 C and 10 (10D) has been revised from the previous sum assured to premium multiple of 5 times to 10 times. While this is consistent to the life insurance industry thought, it is a substantial change to be implemented in such a short time frame and hence would like to appeal for more time.