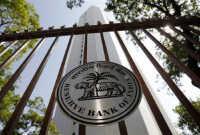 Reserve Bank deputy governor K C Chakrabarty said private credit demand will not be crowded out as a result of higher market borrowing by the government, proposed in today's Budget which pegs fiscal deficit target for next fiscal at 5.1 percent.
"The idea of 5.1 per cent fiscal deficit should not deprive credit needs of the society," he said at an HDFC Bank event.
When asked if the higher fiscal deficit, which forces the government to borrow extra from the market, would crowd out private investment, the deputy governor said, "I don't think so.. legitimate credit demand will not be crowded out."
Chakrabarty said before arriving at the fiscal deficit number, the government does a lot of groundwork which entails assessing the credit requirements of the industry and agriculture, apart from what it will need for itself.
"I think all these exercise has been done and based on that, what has been prepared, will ensure credit needs of the society," he said.
In the FY13 Budget, Finance Minister Pranab Mukherjee has targeted a fiscal deficit of 5.1 percent and a net market borrowing of Rs 4.79 lakh
crore to overcome it.
According to the experts, excess borrowing by the government ends up hurting credit flow to the private sector.
As against the targeted deficit of 4.6 per cent announced in last year's Budget, a combination of factors such as higher subsidies, rising crude prices and deteriorating macroeconomic situation have caused the number to go up to 5.9 percent for FY12.
The government has already ended up borrowing Rs 92,000 crore in excess of the targeted Rs 4.17 lakh crore for FY 12.
The Reserve Bank, led by Governor D Subbarao, had been vociferously demanding that the government take steps towards fiscal consolidation in the run-up to the Budget.
Asked if the Budget numbers sound credible, Chakrabarty said the RBI will examine the steps being taken by the government in the coming months.
Specifically, the RBI has been expressing displeasure over diesel prices continuing to be controlled, and the high fertiliser subsidies. Today's Budget is silent on these demands.
Union Budget 2012-13: Complete coverage