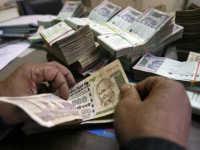 For every rupee in government kitty, 29 paise will come from market borrowing in 2012-13. The government's dependence on debt has gone up from 27 paise in the previous Budget to 29 paise in the coming year, reflecting the pressure on revenue collections.
As per the proposals presented by Finance Minister Pranab Mukherjee in Parliament, the net borrowings of the government in 2012-13 are pegged at Rs 4.79 lakh crore against Rs 4.36 lakh crore for the current fiscal.
On the expenditure side, central Plan will account for an outgo of 22 paise, followed by 18 paise of interest payments.
Defence allocation has been maintained at 11 paise. As the single largest source of revenue income, the collection from corporate tax has decreased to 21 paise to 24 paise as a percentage of every rupee earned, indicating the sluggish growth in the industry.
However, with increase in the service tax rate, the government expects revenue collection from service tax and others to go up to 7 paise against 6 paise in 2011-12.
Besides, other indirect tax component excise and customs would earn 21
paise for the government. Despite tax incentives given to individuals, direct tax contribution has been retained at 9 paise.
With rising crude oil price due to global economic uncertainty, the subsidy burden on the government would go up 10 paisa against 9 paise for the year ending March 2012.
At the same time, other non-plan expenditure is expected to account for 11 paise of every rupee spent by the government in 2012-13, while the states' share of taxes and duties would amount to 17 paise of every rupee earned.
Plan assistance to states and Union Territories has been retained at seven paise in 2012-13.
Union Budget 2012-13: Complete coverage