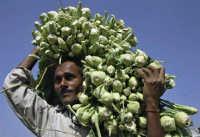 The government has pegged its outgo on food, fuel and fertiliser subsidies in the 2012-13 fiscal at over Rs 1.79 lakh crore, nearly 14 per cent lower than the revised estimates for the current fiscal.
According to the Budget proposals, the government's subsidy bill on food, petroleum and fertilisers is estimated at Rs 1,79,554 crore for the 2012-13 fiscal as against Rs 2,08,503 crore in the revised estimates for this fiscal.
Interestingly, the revised estimate for this fiscal is higher by 55 per cent compared to the budget estimate of nearly Rs 1,34,211 crore.
The oil subsidy, which is given to state-run oil marketing firms, such as Indian Oil Corp, BPCL and HPCL, for selling diesel, domestic LPG to households and kerosene through the PDS system, below cost, is estimated lower at Rs 43,580 crore in FY'13, compared to Rs 68,481 crore in this fiscal.
The government's food subsidy given to run the public distribution system is estimated to rise marginally to Rs 75,000 crore next fiscal from Rs 72,823 crore in 2011-12.
Food
subsidy is provided to meet the difference between the economic cost of foodgrains and their sales realisation at the Central Issue Price fixed under the public distribution system and other welfare schemes.
The fertiliser subsidy is also pegged lower at Rs 60,974 crore in the next fiscal, as against Rs 67,199 crore in the current fiscal.
Under the fertiliser subsidy, the government would provide Rs 13,398 crore for imported urea, Rs 19,000 crore for indigenous (urea) fertilisers, and Rs 28,576 crore for the sale of decontrolled fertilisers (DAP, MOP and complexes) at a subsidised rate to farmers.
Union Budget 2012-13: Complete coverage