To tackle supply constrains that push up food prices, the Economic Survey suggested that the government should consider import of farm items in small quantities on a regular basis.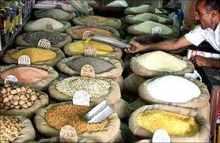 "Given the compositional shift in the food basket of a common household and its impact on consumption demand, improved supply response is critical for ensuring price stability in food items," the Economic Survey 2011-12 said.

"As a strategy, regular imports of agricultural commodities in relatively smaller quantities with an upper ceiling on total quantity could be considered," it said.

The upper ceiling on imports can be decided annually, relatively well in advance, it added.

The Survey pointed out that there have been increases in the prices of protein rich food items because supply has not kept pace with demand. It said the country needs to step up efforts to increase production of milk and other dairy products, egg, poultry, fish and meat.

The Survey also outlined others options to improve food supply including setting up special market for specific crops, improving mandi governance and promoting inter-state
trade by eliminating multiple levies.
It also suggested that the government take perishables out of the ambit of the Agricultural Produce Markets Committees (APMC) Act. "The recent episodes of inflation in vegetables and fruits have exposed flaws in our supply chains. The government -regulated mandis sometimes prevent retailers from integrating their enterprises with those of farmers.
In view of this, perishables have to be exempted from this regulation," the Survey observed.
It also advocated that organised trade in agriculture should be encouraged and hoped that foreign direct investment (FDI) in multi-brand retail, once implemented, could help in improving agriculture commodities management in the country.
The Survey asked the government to step up creation of modern storage facilities for foodgrains.
India's agricultural imports were USD 17.5 billion, with a 1.2 per cent share of world trade in agriculture in 2010, according to a WTO data.
Union Budget 2012-13: Complete coverage