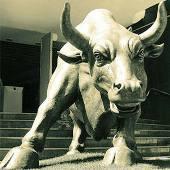 Indian stock markets have given the second highest returns between 2003-04 and April-December of 2011-12 among the prominent Asian bourses over the past eight years, according to the Economic Survey.

An analysis of major Asian countries' stock indices show that the 30-share Sensex gave the second maximum cumulative returns, while the highest return was given by Indonesia's benchmark Jakarta Composite Index, the Economic Survey 2011-12 said.

"Among selected Asian Indices, the Jakarta Composite Index posted a maximum cumulative return of 419.5 per cent in 2011-12 (April-December) over 2003-04 followed by the BSE Sensex Index (176.4 per cent), S&P CNX Nifty Index (161.0 per cent). . .,"
it said.
Other indices compared are Japan's Kospi, Indonesia's Kuala Lumpur Comp, Hong Kong's Hang Seng, Taiwan's TSEC.
During the same period, the returns of other indices were "Kospi Index (107.4 per cent), Kuala Lumpur Comp Index (69.7 per cent), Hang Seng Index (45.4 per cent), SSE Composite Index (26.3 per cent), and TSEC weighted Index (8.4 per cent)," the report said.
Union Budget 2012-13: Complete coverage