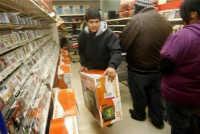 Consumer durables makers such as Videocon, Samsung and LG expressed disappointment over the lack of incentives in the Budget to counter sluggish demand in the industry.
The firms also said the excise duty hike by two per cent will be passed on to consumers and it may hurt sales further.
"In this Budget, we were expecting some relief from the government in terms of taxation, infrastructure set up, reduce customs duty, encourage domestic manufacturing especially set top boxes etc. However, not all of it has happened," Consumer Electronics and Appliances Manufacturers Association President Anirudh Dhoot said in a statement.
Dhoot, who is also the Director of Videocon, said the manufacturers had hiked the prices by 5-10 per cent as the last quarter of 2011 was not favorable due to factors like inflation, fuel prices and rupee depreciation against dollar.
"The increase of excise duty and service tax from 10 per cent to 12 per cent will straight away affect the end consumer, right from lower middle class to upper class of the society," he added.
He, however, said removal of customs duty on LCD and LED panels and mobile phones parts, and the five year extension for weighted deduction of 200 per cent on R&D expenditure for in-house
facilities are welcoming decisions.
"In the Indian consumer durables industry, majority of the products are still being manufactured in India. So the growth of durables industry would be a challenge," Dhoot said.
Consumer durables major Samsung India said it may hike the prices of its products due to increase in excise duty.
"The rise in excise duty may lead to an increase in prices of consumer electronics products," Samsung India Vice-President (Home Appliances) Mahesh Krishnan said.
He said the benefits announced for key sectors like infrastructure, agriculture and education are bound to improve the overall economic scenario.
"However, the Budget does not bring any relief to the consumer electronics industry, which has been reeling under the impact of rising input costs and rupee depreciation in recent times," Krishnan said.
Another consumer durable major LG India said rolling back of financial stimulus package will affect consumer sentiment even as the industry is still struggling with steep dollar exchange rate and input cost increases over the last one year.
Union Budget 2012-13: Complete coverage