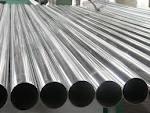 Aluminium, one of the major industries in the base metal sector, is moving fast may surpass the tensile strength of steel and share the leading position with steel. India has the fifth largest bauxite reserves with deposits of about 3 billion tonnes or 5% of world deposits.

India rests at 3% share in world aluminium capacity. Production of 1 tonne of aluminium requires 2 tonnes of alumina while production of 1 tonne of alumina requires 2 to 3 tonnes of bauxite.
In the manufacturing process of aluminium, aluminium ore (bauxite) is first converted into calcined aluminia and then finally smelting of alumina to primary aluminium. Calcined petroleum coke, coal tar pitch, aluminium fluoride and caustic soda are used for producing aluminium.
The Indian per capita consumption of aluminium continues to remain low at 1.2 Kg as against nearly 15 to 18 Kgs in the western world and 10 Kgs in China. Aluminium is widely used in power, transportation, consumer durables, packaging and construction. Of this, 48% of the total consumption is by power, 20% by infrastructure and 10-15% by transportation.
Unwrought aluminium and primary aluminium in the form of bars, rods, propiles, wire, plates, sheets and foils falling under tariff heading 7601 to 7607 attract customs duty of 5% where as some of the inputs attract higher rate of customs duty.
Coal tar pitch is one such input, which attracts custom duty of 10%, which is two times the 5% duty on aluminium.
Industry Expectation:
Reduce custom duty on coal tar pitch from existing 10% to 5%.
Item

Existing (2011-12)

Proposed (2012-13)

 

Excise Duty %

Customs Duty %

Excise Duty %

Customs Duty %

Aluminium in various forms (7601 to 7607)

10

5

10

5

Unwrought aluminium, not alloyed and Unwrought aluminium alloys from Thailand

10

NIL

10

NIL

Aluminium alloys from Srilanka

10

NIL

10

NIL

Aluminium products

10

10

10

10

INPUTS

 

 

 

 

Aluminium ore (bauxite )

NIL

2.5

NIL

2.5

Calcined petroleum coke

14

2.5

14

2.5

Calcined alumina

10

5

10

5

Aluminium fluoride

10

7.5

10

7.5

Caustic soda

10

7.5

10

7.5

Coal tar pitch

14

10

14

5
Stocks to watch:
Hindalco, National Aluminium Company
Analyst Expectation:
The Reduction in coal tar pitch custom duty from 10% to 5% is expected. This would give twin benefits to the sector a) increase the imports of coal tar pitch and improve the aluminium production and b) increase the margins of producers with the reduction in import costs of coal tar pitch.
Outlook:
The spot aluminium prices as per Multi Commodity Exchange are at Rs 111 per Kg during March 2012. The prices continued to decelerate from peak 20% growth in July 2011 to decline by 3% in March 2012 on year on year basis on the back of reduced demand from China and Europe due to tight credit policy in the country and festering sovereign debt crisis.

Therefore, the prices are expected to improve with the continued easing of monitory policy in China and also with the recovery of global economic conditions.
Demand for aluminium is expected to grow at 6-8% per annum due to low per capita consumption in India. While in China, it is expected to boost up by the development in China, especially in the construction of high-speed rail as per the China's 12 th Five –Year Plan (2011-2015).

Also the expansion of non-residential construction and ultra high voltage electricity transmission coupled with the export demand for aluminum –intensive manufactured products, such as motor vehicles and household appliances contribute to the rise in demand. However, concerns on the tight credit policy in China and Euro zone crisis in European countries.
The general excise duty may be hiked from 10% at present, which will also lead to higher excise incidence on the aluminium sector.  To this extent, the Union Budget 2012-13 is likely to be negative for the aluminium producers.
Trend in Coal Tar Pitch cost of National Aluminium Company

Year

Product Quantity

Product Value

Cost per MT

201103

41189

106.33

25815.15

201003

35725

89.08

24934.92

200903

34738

86.68

24952.5

200803

35496

75.81

21357.34

200703

36455

106.7

29268.96

200603

35700

63.38

17753.5

200503

35431

63.21

17840.31

200403

29825

53.1

17803.86

200303

23870

39.12

16388.77

200203

24945

43.47

17426.34

200103

25687

43.54

16950.21

200003

25151

30.24

12023.38

199903

16822

16.85

10017.83

199803

21392

21.24

9928.01

199703

19812

18.31

9241.87

199603

19862

17.77

8946.73

199503

18006

15.93

8847.05

199403

18946

18.06

9532.35

199303

18432

22.69

12310.11

199203

17901

19.83

11077.59

199103

16695

13.29

7960.47

199003

13064

7.68

5878.75

Quantity in Metric Tonne (MT) , Value in Rs crore

Source: Capitaline
Union Budget 2012-13: Complete coverage