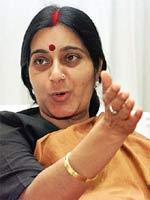 Bharatiya Janata Party's Sushma Swaraj, leader of the Opposition in Lok Sabha, took a dig at Finance Minister Pranab Mukherjee who declared that he was allocating Rs 300 crore (Rs 3 billion) for bringing more areas under pulses cultivation and some other related items as his lucky number is three.
"I want to say to Pranab-da, if three is your lucky number it would have been better if he had added two more zeros and allocated Rs 30,000 crore (Rs 300 billion) instead of just Rs 300 crore. No wonder the number three has stuck with him and he is number three in the government after Sonia Gandhi and Prime Minister Dr Manmohan Singh," she said.
She said women had hoped that the finance minister would provide them relief so that they could run their kitchens more effectively. "I am disappointed by the Union Budget. Instead of providing relief to women he has added to their woes and miseries," she added.
She ridiculed the finance minister for providing kerosene and fertlizer subsidy to people living below the poverty line. She read out from the speech of Pranab Mukherjee to support her argument.
"Who are the people who come under below poverty line? Those who do not have land and do not own a house, right? Then what will they do with the fertilizer subsidy. Eat it?" she as sending her audience into peals of laughter.
She took Mukherjee to task for giving grants to IIT Khargpur, Aligarh Muslim University in Murshidabad and IIM Kolkatta while overlooking other premier institutions in the country. "He could not go beyond his home state of West Bengal which goes to polls in near future," she asserted.
She said when she meets Mukherjee next she is going to ask him to set up a group of ministers to go into what the groups of ministers set up before had done. "Instead of saying something concrete on black money he tells the nation that a group of ministers has been constituted to go into the issue. India is one of the countries which has signed UN resolution against corruption but has not ratified it so far. They have entered into an agreement with the Swiss government on exchange of information on bank accounts held by the Indians but this agreement will become effective from April 2011. Thereby the government gave enough time for those who has stashed away their money in Swiss banks to withdraw the money and deposit in new accounts in new tax havens which have not signed such an agreement with India," she charged.