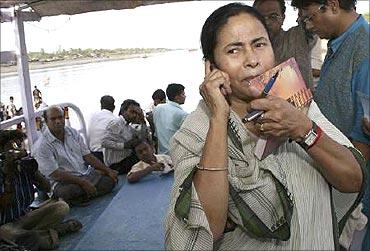 The Lok Sabha on Monday approved the Rail budget for 2011-12 after Railway Minister Mamata Banerjee assured the House of effecting measures to ensure availability of adequate coaches and wagons in the coming years.

"Our performance is not bad...I have (approved) 16 projects. There will be no problem of coaches," she said winding up the discussion on the Rail Budget.

The Rail Budget was passed after Speaker Meira Kumar suspended rules to allow the House take up the general discussion on Rail budget, supplementary demands for grants and relevant appropriation bills together.

Referring to the crippling shortage of coaches and wagons, she said, the Rae Bareli factory would roll out its first coach in April.
"I will invite UPA chairperson Sonia Gandhi for the function in April," she said.
Banerjee said other factories would also come up to bridge the demand-supply gap of coaches and wagons.
Refuting charges of ignoring finance ministry and Planning Commission, the minister asserted that she has not done anything without their approval.
"We discuss every proposal with Planning Commission before going ahead...we should not play dirty politics in development works," she said, adding that everything was done in accordance with the Constitutional provisions.
Earlier during the discussion, some members accused her of bypassing Planning Commission and finance ministry.
The minister also assured the members that their constituencies would get one passenger railway system on individual request.
About new lines in their constituencies, the members were assured by the the minister that Railways would conduct a feasibility study and inform them about the fate of their proposals.
On concerns expressed by the members on projects pending since long, Banerjee said such projects worth Rs 150,000 crore (Rs 1,500 billion) were stalled because of fund crunch and these could not be financed from earnings from fare and freight.
She assured all members that their request for Aadarsh stations in their constituencies would be considered but it is not feasible to have too many world class stations because the consultancy work alone requires funds to the tune of Rs 30-40 crore (Rs 300-400 million).
The Railways bore extra financial burden due to imposition of cess on diesel and 6th Pay Commission report, but did not increase fare and freights.
About the Public Private Partnership in Railways, she said a committee was working on it.
She said anti-collision devices would soon be introduced in seven railway zones to prevent mishaps.