If you use life insurance as an investment instrument, be prepared for slightly lower yields because of increased taxation.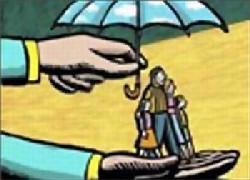 On traditional insurance plans, the finance minister has increased the amount on which service tax is levied.

Earlier, the customer paid service tax on 1 per cent of the premium. From the next financial year, this will go up to 1.5 per cent.

For example, if you paid an annual premium of Rs 10,000, the service tax (of 10 per cent) was charged on Rs 100. Now, the tax will be charged on Rs 150.

"These will be adjusted in the premiums and accordingly the yield will fall," said a senior official of a life insurance company.

Traditional products include moneyback policies and endowment plans.

Similarly, the finance minister has also brought all unit-linked insurance plan (Ulip) charges under the gamut of service tax.

Until now, only mortality and fund management charges were subjected to service tax. This means, policy administration charge and policy allocation charge, too, would come under the service tax net.

"These Ulip components have been brought under the service tax net again, after being abolished last year. This taxing of all the charges will affect the returns. We envisage at least 20-25 basis points reduction in yield to the policyholder," said V Srinivasan, chief financial officer at Bharti AXA Life Insurance Company.

According to Nageswara Rao, CEO and managing director, IDBI Federal Life Insurance Company, guaranteed Ulips would attract higher charges, too, after the Budget modification in the service tax.

However, the insurers were waiting for the finance minister to clarify on the continuation of the exempt-exempt-exempt (EEE) tax regime on life insurance products once the Direct Tax Code is implemented from April 1, 2012.

"EEE is an important incentive to invest in long-term savings instruments such as life insurance and hence should be retained. However, the speech did not give any clear indication on it," said Rajesh Sud, CEO and managing director, Max New York Life Insurance Company.