IIP-based cumulative industrial output growth during April-December 2010 was 8.6 per cent, on a par with the growth rate of the corresponding months of the previous year, says the Economic Survey 2010-11 which was presented by the Union Finance Minister Pranab Mukherjee in the Parliament on Friday.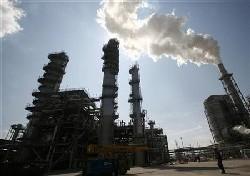 As per the Survey, growth in the industrial sector was buoyant during the first two quarters (April-June, July-September) of the current financial year. Thereafter, industrial output growth has begun to moderate partly due to higher base effect.

The growth during the current financial year has mainly been driven by the capital goods and the consumer durables segments. Weighted contribution of these segments during April-December 2010 was about 29 per cent and 21 per cent.

Due to poor performance of the basic goods and consumer non-durables segments, a sizable chunk of the industrial sector has not contributed significantly towards overall IIP growth.

The manufacturing sector, which has a weight of 79.36 per cent in the Index of Industrial Production (IIP), is its key driver.

Manufacturing output growth has dipped from a peak of 18 per cent in April 2010 to 1.0 per cent in December 2010, as a result of which IIP growth has also come down.

However, this slowdown is, in a large part, driven by the base effect. Despite wide fluctuations, the April-December 2010 cumulative growth rate has remained at a robust 9.1 per cent for the manufacturing sector and 8.6 per cent for the IIP.

Month-wise annual growth rate for the remaining months of the financial year is likely to remain moderate but annual growth rate is expected to remain at par with the last years growth rate.

Sector wise weighted contribution is, basic goods 35.57 per cent, consumer goods 28.67, intermediate goods 26.51 and capital goods 9.26.

During April to December 2010, out of the 17 industrial groups covered under the sector nine have had higher than 10 per cent cumulative growth rate and three higher than 5 per cent.

Only five groups have had less than 5 per cent or negative cumulative growth rate.

Transport equipment was on top with 24.5 per cent growth rate followed by others manufacturing industries with 22.1 per cent and metal products with 21.9 per cent growth, which was substantially higher than the figures for the corresponding period last year.

Cotton textiles production grew by 10.1 per cent and jute textiles by 6.8 per cent during April-November 2010 as compared to 3.6 per cent and − 16.7 per cent during the corresponding period of the last year.

The estimated production of urea in 2010-11 is projected at 215.37 lakh metric tones and that of DAP and complexes at 39.58 lakh MT and 91.66 lakh MT as against the 2009-10 production of 211.12 lakh MT, 42.46 lakh MT and 80.38 lakh MT respectively.

There has not been significant capacity edition in some of the core industries. Likewise slow rate of capacity edition in physical infrastructure sector is constricting industrial sector growth.

Capacity edition in core sectors and renewal of bottlenecks would spur industrial sector output in the medium to long term.
Source: PIB