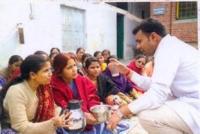 Budget 2011-12 has increased the allocation to the social sector by 17 per cent to Rs. 1,60,887 crore (Rs. 1608.87 billion). It has brought good news for the anganwadi workers and helpers under the Integrated Child Development Services scheme by doubling their salaries to Rs. 3,000 (Rs. 30 billion) and Rs. 1,500 (Rs. 150 billion) respectively.
Around 2,200,000 anganwadi workers are expected to benefit even as these workers and several other service providers have been demanding regularisation as employees under various government schemes.
The overall allocation to ICDS was increased by seven per cent to Rs. 8,964 crore (Rs. 89.64 billion).
Social security has got a beating with the Unorganised Social Security Fund getting its allocation slashed to Rs. 500 crore (Rs. 5 billion), as against the earlier Rs. 1,000 crore (Rs. 10 billion).
However, the Budget has brought down the eligibility for pensioners under the Indira Gandhi National Old Age Pension Scheme for BPL beneficiaries to 60 years from the earlier 65.
To encourage people from the unorganised sector to save for their retirement by enrolling under the New Pension Scheme, the government has doubled the allocation to Rs 220 crore (Rs. 2. 2 billion)
under the Swavalamban Scheme.
Besides, it has relaxed the norms for exit to the age of 50 years instead of the earlier 60. It has also extended the benefit of government contribution from three to five years.
An estimated 2,000,000 people are expected to join the scheme by March 2012.
Needy students from scheduled castes and scheduled tribes will be able to apply for pre-matric scholarships (classes IX and X) under a new scheme announced today.
The government is also going to create a Women's Self Help Group Development Fund with a corpus of Rs. 500 crore.
The Budget has provided an additional assistance of Rs. 500 crore (Rs. 5 billion) to the National Skill Development Fund.
The National Skill Development Council plans to create a 150-million strong workforce by 2020, for which the total requirement is about Rs. 15,000 crore (Rs. 150 billion).
The government will also provide Rs. 3,000 crore (Rs. 30 billion) to the National Bank for Agriculture and Rural Development (Nabard) in a phased manner to benefit about 300,000 handloom weavers and 15,000 cooperative societies.