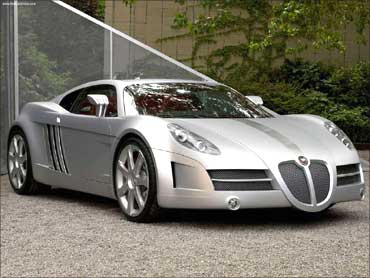 Tatas-owned Land Rover on Tuesday showcased its plug-in hybrid sports utility vehicle 'Range_e' at the Geneva Motor Show, with plans to launch the product within next two years.
"This development model is equipped with an advanced plug-in hybrid diesel-electric powertrain that Land Rover expects to make available in future production models following the scheduled launch of its diesel-electric hybrid in 2013," the British marque said.
The vehicle will be powered by a 3.0-litre TDV6 diesel engine, featuring an 8-speed automatic transmission.
The company claims that the SUV will be able to travel 32 km using electric power alone at a top speed of about 193 km per hour, emitting just 89 grams of CO2 every kilometre. "Improved fuel efficiency from the hybrid system makes 690 miles (1,112 km) possible on a full tank of fuel," it added.
Hybrid technology enables the use of either conventional fuel or fuel cells (batteries) to power a vehicle and is considered eco-friendly.
Commenting on the development, Land Rover Global Brand Director John Edwards said: "This system is the first example of a premium plug-in hybrid that also provides the full four-wheel-drive
capability that you would expect from a Land Rover.
"It is an evolution of the production intent diesel-electric hybrid technology which will be launched in our next generation of SUVs and will be available for customers within the next two years."
In 4WD technology, the transmission is distributed equally to all four wheels of the vehicle.
Earlier, Jaguar Land Rover had announced plans to invest 800 million pounds to develop environment-friendly technology, with a target to reduce the average CO2 emissions of its entire fleet by 25 per cent between 2008 and 2012.
Last month, JLR had said it would hire over 2,000 people globally across different positions within next two years to increase its headcount by over 11 per cent.