The BSE Midcap index has declined 5.7% thus far in May 2018. In comparison, the S&P BSE Small-cap index has lost 5.6%
Illustration: Uttam Ghosh/Rediff.com
The adage - Sell in May and go away - has proven correct this time around for stocks in the mid-cap segment with the S&P BSE Midcap index set to post its worst monthly fall in past 18 months.
The performance comes on the back of sharp decline automobiles, pharmaceutical, capital goods and financial sector stocks.
The BSE Midcap index has declined 5.7 per cent thus far in May 2018. In comparison, the S&P BSE Small-cap index has lost 5.6 per cent, while the benchmark S&P BSE Sensex has slipped 0.6 per cent.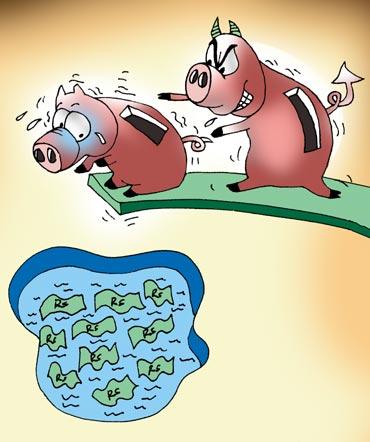 Earlier in November 2016, the midcap index had lost 7.2 per cent, while the small-cap index plunged 9.2 per cent after Narendra Modi - led government at the Centre unexpectedly pulled out high-denomination banknotes from circulation.
The S&P BSE Sensex had slipped 4.6 per cent during November 2016.
"There has been a slight disappointment on the earnings front. The mutual funds, too, have been churning their holding.
"These two factors led to a sharp correction in the mid-cap stocks. One needs to be careful while investing in this segment. We expect price erosion in some stocks if the earnings do not catch up," says Gaurang Shah, head investment strategist at Geojit Financial Services.
Out of 100 stocks from the index, 78 per cent scrips have recorded a negative return during May.
Of these 78 stocks, 44 scrips have underperformed by falling up to 62 per cent till Tuesday.
As many as eight stocks from the financials such as IDFC Bank, IIFL Holdings, Federal Bank, Muthoot Finance, Reliance Nippon Life Asset Management, Cholamandalam Investment and Finance Company, PNB Housing Finance and Housing and Urban Development Corporation (HUDCO) were down more than 10 per cent during the month so far.
Analysts say the fall in most PSU banks was triggered by their March 2018 quarterly results that saw a huge bump up in provisions for non-performing assets (NPAs), which in turn saw them report losses.
"A number of PSU banks have reported a net loss mainly on account of past inheritance and changes in the provision norms.
"Some PSU banks which eroded their net worth could face crisis, but it is not likely to pull down the banking industry or the economy.
"NBFCs saw profit booking as their stocks had run up sharply in the earlier months. Suggest bottom-up approach while investing in the financial sector counters," says G Chokkalingam, founder and managing director at Equinomics Research.
Ajanta Pharma and Wockhardt from pharmaceutical, GE T&D India and ABB India from capital goods, Bharat Forge, Ashok Leyland and TVS Motor Company from the auto and auto ancillary sector have slipped between 10 per cent and 15 per cent.
Among autos, analysts at Motilal Oswal prefer to prefer four-wheelers over two-wheelers and commercial vehicles due to a stronger volume growth and a stable competitive environment.
"While we expect two-wheeler volumes to benefit from a rural recovery in the near term, competitive intensity remains high due to changing customer preferences.
"Our top picks in the mid-cap segment are Ashok Leyland, Exide and Endurance Technologies," they said in a recent report.
Shah of Geojit remains positive on the auto sector, but suggests investors be selective in the pharma space as a bad news pertaining to one company can see the entire sector underperform.