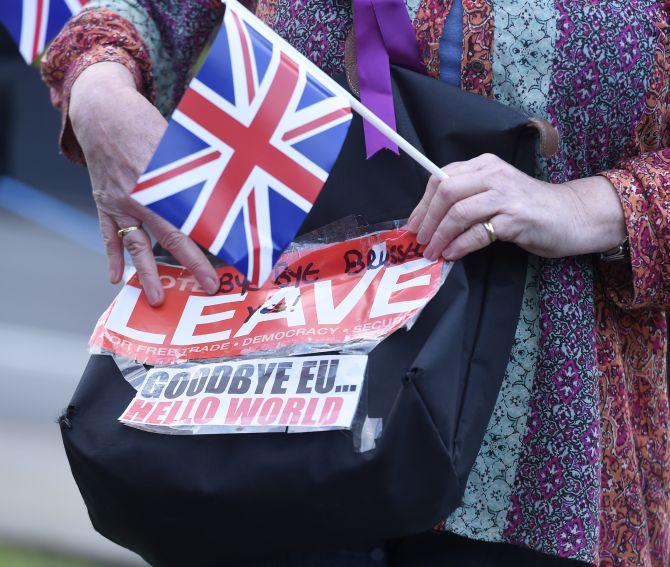 'Brexit to offer better market access to India'
Brexit will provide the country better market access to the EU and England, even as there will be some market volatility, State Bank of India Chairperson Arundhati Bhattacharya on Friday said.
"As risk aversion sets in, there would be a decline in financial markets and India would see this impact along with other nations.
"But as trade strategies are reworked there could be potential advantages in the form of better market access for India to the EU and Britain," Bhattacharya said in a statement.
Britain voted to leave the EU in a deadly blow to the 28-nation bloc, forcing Prime Minister David Cameron to resign in the wake of the defeat in the referendum the result of which triggered a panic reaction in world markets and raised questions over immigration and other issues in Britain after the divorce.
The decision led to a sharp fall in the domestic market as well as in the rupee following which the government and the RBI said the economy has enough "firepower" to deal with the situation.
Economic Affairs Secretary Shaktikanta Das said domestic fundamentals are strong enough and the country will not suffer from any long-term impact of Brexit.
He said with comfortable foreign reserves, inflation coming down and structural reforms on path, the country will be able to deal with all eventualities.
Reserve Bank Governor Raghuram Rajan also said the central bank is watching markets closely the fallout of the British vote for exit from the European Union and is ready to act if there was any disorderly behaviour.
'Brexit opened up Pandora's box of woes'
The United Kingdom vote to leave the European Union has opened up a 'Pandora's box of grave uncertainties' and India cannot be in denial that it will be immune to the development, Biocon CMD Kiran Mazumdar-Shaw has said.
"It has opened up a Pandora's box of grave uncertainties. Will Euro remain intact or will we see others exit?
"What will be the impact on the Euro itself? Will it devalue and to what extent? How will India's bilateral trade with UK and Europe be impacted?" she told PTI.
"How much will the USD strengthen against the Pound Sterling/Euro/Rupee?" Mazumdar-Shaw said.
She said India cannot be in denial that it will be immune to Brexit, adding that there is likely to be mayhem for several weeks before things stabilise.
"It's fortunate that we still have Raghuram Rajan at the helm of RBI at this critical time," the Biocon CMD said.
'Access to market, workforce key post Brexit'
Tata Sons on Friday termed access to markets and skilled workforce as 'important considerations' after Britain voted in favour of leaving the European Union and said that each of its 19 firms having interests in the UK will do a business review.
"There are 19 independent Tata companies in the UK, with diverse businesses.
"Each company continuously reviews its strategy and operations in the light of developments, and will continue to do so," a Tata Sons spokesperson said in a statement.
"Access to markets and skilled workforce will remain important considerations," the statement added.
Tata Group stocks this morning witnessed severe drubbing, plummeting by up to 13 per cent, as the UK's vote to exit the European Union spooked investors given the conglomerate's huge exposure to the region.
Tata Motors plunged 12.9 per cent, Tata Steel tanked 10.89 per cent and TCS dipped 4.81 per cent on BSE.
Shares of Tata Elxsi plunged 9.21 per cent, Tata Global Beverages (7.26 per cent), Tata Chemicals (5.72 per cent) and Tata Communications (5.34 per cent).
According to estimates, there could be a significant impact on JLR following Brexit vote.
'Impact of Brexit will be muted'
Britain's exit from the European Union will have a muted impact on the over $17 billion Mahindra Group, but the event highlights the importance of sound risk management for the corporate world, the Group said on Friday.
The farm equipment to aerospace group, which has presence in the UK mostly in the IT and auto sectors, however, said Brexit will result in uncertainty in the immediate aftermath which will moderate over time.
"The impact on India and Indian industries will not be significant.
"No impact on M&M Ltd, the impact on Mahindra Group will be muted.
"As a group, our 'resilience' will stand us in good stead and we are poised to take advantage of any opportunities that may emerge," Mahindra Group Chief Financial Officer, V S Parthasarathy said in a statement.
He further said: "Brexit, was not a black swan event, but an existing probability, which is now a reality! The result is uncertainty in the immediate aftermath which will moderate over time."
According to Parthasarathy, this event highlights the importance of sound risk management for the corporate world.
'India is relatively insulated'
"The recent Brexit decision has led to volatilities in markets across the globe, including India.
"While a larger assessment of its impact of India is still underway, we are of the view that India is relatively insulated from this to some extent," said Lakshmi Iyer, Chief Investment Officer (Debt) & Head Products, Kotak Mutual Fund.
"Liquidity situation globally is likely to improve from the current levels, which would mean positive for world interest rates.
"Indian currency is likely to come under pressure in the near term.
"However, the central banker's intent to maintain an orderly bias in currency markets should take care of interim volatilities", she added.
'Domestic cues will take over quickly'
"The verdict of Brexit referendum is out and Britain has voted to leave the European Union, causing mayhem across financial markets," said Jayant Manglik, President, Retail Distribution, Religare Securities Ltd.
"Equity markets have reacted sharply world over to this outcome and trading with deep cuts as of now but market direction in each country will diverge from here as other factors specific to that location kick in," he added.
Though the outcome is clear but such separation takes time to materialise as also its impact on changes in the demand-supply mechanics.
In our case, it could cause marginal decline in Nifty in the immediate term, but domestic cues will take over quickly.
The progress of monsoon so far is satisfactory. Another positive is the latest policy announcements to encourage FDI in several sectors.
There is also a possibility for passage of Goods and Services Tax bill in the upcoming monsoon session of the parliament.
It is also noted that midcaps have been fairly resilient through the fall on Friday.
'We could see a surge in leisure tourism to Britain'
"Brexit has resulted in a big drop in the value of the Pound and if this trend remains then we could see a surge in leisure tourism to Britain, as it will become significantly cheaper," said Sharat Dhall, President, Yatra.com.
"However, it is too early to establish that this drop in the Pound will be sustained and we are yet to see any surge in travel bookings to the UK.
"A drop in the Pound could also result in an increase in students from India choosing the UK as a destination as it will make education significantly cheaper there."
Image: A vote leave supporter holds a poster in Westminster, London. Photograph: Toby Melville/Reuters