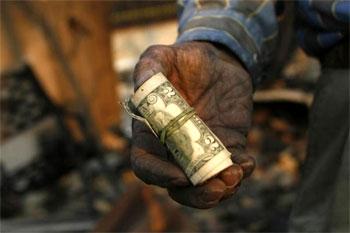 Seeking to come clean on illicit funds amid intense government pressure, Swiss banks have asked their Indian clients to provide fresh undertakings to ensure that untaxed money is not stashed in their accounts.
Swiss banks, long perceived to be safe havens for parking unaccounted funds, have also started asking for auditor certificates from high net worth individuals and corporate clients to vouch for the "clean status" of their money.
The latest development comes at a time when India is aggressively making efforts to bring back illicit money parked by its citizens overseas and Switzerland has also agreed to co-operate on the issue.
Sources said that Swiss banks are asking their Indian customers to provide fresh undertakings that all taxes have been paid on funds deposited by them in these accounts.
According to them, banks are also asking both corporate and individual clients to furnish auditor certificates certifying "clean status" of funds, assets and income related to their accounts.
Such directives are believed to have been issued to high networth individuals, wealth management and portfolio management clients, they added.
Queries sent to banking majors, including HSBC and Credit Suisse, related to the issue, did not elicit immediate response.
Indian authorities are already pursuing cases related to its citizens who had kept unaccounted funds in HSBC Switzerland, after receiving a list of names from the French government few years back.
According to sources, HSBC has been asked by Indian authorities to show cause why action should not be initiated against it in case of non-cooperation with regard to "suspected tax evaders and offenders of tax crimes".
Besides, HSBC has come under regulatory cross hairs in multiple jurisdictions including India, following an expose that revealed thousands of entities allegedly parked their illicit funds at its Swiss branch.
To curb the blackmoney menace, a Supreme Court constituted special investigation team is probing various cases while the government would soon be coming out with a stringent that provides for hefty penalties as well as imprisonment for stashing away unaccounted money.
Recently, Finance Minister Arun Jaitley had said that all efforts are being made to bring to book those who have been named in the HSBC bank list of black money holders and there are evidence against them.
There were as many as 628 names in the HSBC list.