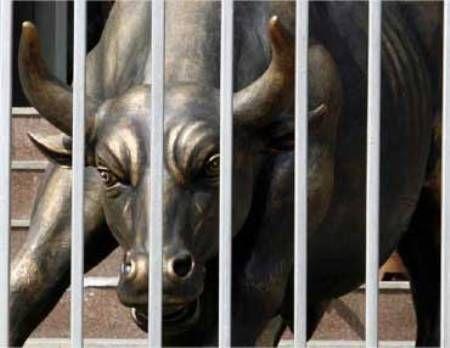 Mutual fund managers would want to forget about Monday in a hurry -- in a matter of hours, their efforts to ensure positive returns for investors this year went into thin air.
The BSE Sensex lost about 1,600 points, while the National Stock Exchange Nifty was down about 400 points.

The net asset value of equity schemes across categories witnessed an average fall of 6.4 per cent, bringing the valuation back to levels at the beginning of the year. In a single trading session on Monday, a steep fall of about six per cent in stock markets wiped out almost all the gains of equity schemes.
Till last week (August 21), the average return on equity schemes was 7.5 per cent. This fell to a mere 60 basis points, following the sharp fall in stock markets on Monday.

In other words, an investment of Rs 100, the value of which was Rs 107.4 last week, nose-dived to Rs 100.6.
Fund managers, however, don't appear to be perturbed by the sharp fall in the markets. They say at a time when India's macroeconomic situation seems to have improved, such falls should be seen as opportunities to enter the market from a long-term perspective.
Prashant Jain, chief investment officer (CIO) of HDFC Mutual Fund, says, "Several times in the past, it has been observed that Indian equity markets are correlated with global markets for very short periods. Corrections led by external factors have proved to be good entry points on occasions when Indian markets weren't overvalued. I believe this is another such opportunity."
S Naren, CIO of ICICI Prudential Mutual Fund, agrees. "India is actually a beneficiary of deflation worries across the world. The sell-off in Indian equity markets by foreign investors is an opportunity to buy for domestic investors."

Naren continues to favour large-caps over mid-caps, as well as funds that tend to benefit from volatility.

"We recommend investors to invest a lump sum today in our asset allocation and large-cap oriented funds," he adds.
Though this year is proving to be tough for investors to make money through equity schemes, it is too short a period to judge the nature of mutual fund as investment vehicles.

For a relatively longer tenure, mutual funds tend to fare better. For instance, despite a sharp fall in the net asset value on Monday, none of the equity fund categories have recorded negative returns for investors through the past one to five years.

Despite the Sensex giving negative returns in the past year through Monday, no equity funds (barring international ones) have gone in the red.
Fund managers say investments made during such sharp falls have always rewarded investors.

"The underlying economy is showing healthy trends -- low inflation and favourable inflation drivers, current account is near balance this year and there are improving capex indicators. In fact, India is one of the very few countries that have a healthy external side and very strong growth prospects," says Jain.
Currently, of the total assets under management of Rs 13 lakh crore, the equity segment accounts for about Rs 4 lakh crore, the highest in the sector's history. With 44 players, the sector offers more than 400 equity schemes to investors.