UP's mills, dominated by the private sector's 94 units, have already expressed their inability to participate in the next crushing season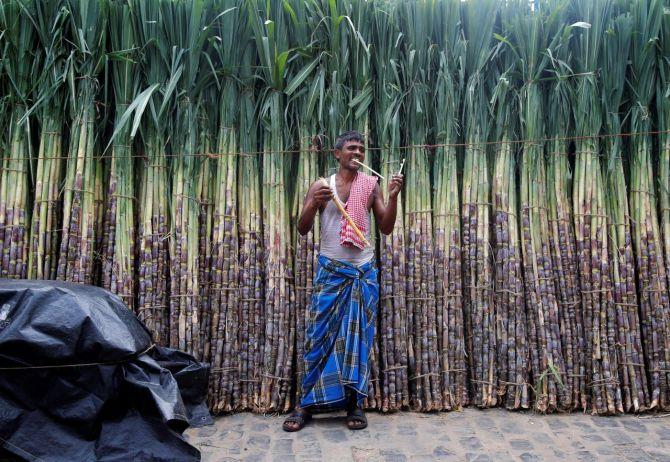 Domestic sugar market glut, farmers' outstanding of about Rs 170 billion along with bumper sugarcane crop for the next crushing season of 2018-19 are all pointing towards an impending crisis ridden sugar cycle.
In this backdrop, the Yogi Adityanath government has directed mills to start their crushing operations early (from October 15). For this, units in western UP have been asked to take the lead.
Of the total arrears of Rs 17,000 crore, UP mills, totalling 119, owe the highest amount of about Rs 11,200 crore, followed by Maharashtra at Rs 1,100 crore.
UP's mills, dominated by the private sector's 94 units, have already expressed their inability to participate in the next crushing season.
This is due to the high arrears and paucity of working capital to pay for the routine maintenance and repair of their units before the next season.
Owing to the higher pan-India estimated cane acreage of 5.44 million hectares (MH) in 2018-19, 8 per cent higher compared to the previous season - sugar production has been pegged at almost 35.5 million tonnes (mt) by the Indian Sugar Mills Association (ISMA).
Higher production estimates coupled with steep current inventory with mills - especially in UP where total unsold stock during the 2017-18 season is estimated at 5 mt or 40 per cent of the total output of 12 mt - would also lead to storage problems with the units, not only for sugar but for other byproducts, mainly molasses.
UP cane commissioner Sanjay Bhoosreddy has directed western UP mills to start from October 15 to November 5, while mills in central UP have to commence operations between October 25 and November 10, followed by eastern UP mills during 10-25 November.
The state's cane acreage is estimated to rise to the highest (by 10 per cent) to 2.3 MH.
Earlier, the chief minister had asked officials to ensure that mills start operations early for allowing farmers to empty fields for sowing of rabi (winter) crops, especially wheat.
With the 2019 Lok Sabha polls approaching, the government does not want to antagonise the four million farmer households engaged in sugarcane farming.
The cane department officials have been asked to inspect off-season repair and maintenance of mills so that they are ready for operations according to the schedule drawn.
"Most private sugar mills have not yet started their repair and maintenance works in UP due to the cash crunch and as such no mill would be in a position to start crushing before November," a sugar company official told Business Standard on condition of anonymity.
Bhoosreddy said there were challenges before the sugar industry and that the central and the state governments were trying to struggle it out.
"We are keeping a watch on the unfolding situation and coordinating with the mills for the coming season."
In June, the Centre had announced a Rs 70 billion package to ease liquidity in the sugar sector, while fixing minimum selling price of white (refined) sugar at Rs 29/kg.
Besides, the Cabinet Committee on Economic Affairs (CCEA) announced the creation of buffer stock of 3 mt, subject to the review by the Union food ministry.
While these measures stopped the sugar price crash, the mills, especially in UP, claimed the central package was grossly insufficient to bail them out, owing to the large unsold inventory and cash crunch.
ISMA director general Abinash Verma said an early start of the domestic crushing season would be in the interest of all stakeholders.
Yet, mills would find it difficult to start operations unless the standing issue of bank loan was sorted out.
He noted that mills in Maharashtra could also start crushing cane by the first week of October.
This would put the pressure on UP mills to follow suit to avert diversion of cane even if their payment capacity was unviable.
"There are a multitude of issues facing the sugar industry, including market glut, unsold inventory, arrears, export halt, storage capacity crunch, higher output estimates for next season and working capital squeeze.
"The government needs to take a holistic approach to resolve these challenges. Or else, the next season would also see a build up of massive arrears," he added.
Photograh: Rupak De Chowdhuri/Reuters