Berkshire Hathaway's India-born head of reinsurance business Ajit Jain, seen as a possible successor to billionaire investor Warren Buffett, will testify through a video deposition for his "close friend", former Goldman Sachs director Rajat Gupta in his insider trading trial.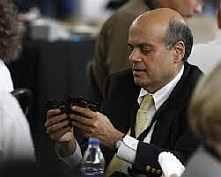 As the prosecution wraps up its case against Gupta, his defence team expects to begin its case today by showing a recorded deposition of Jain, a spokeswoman for the federal court in Manhattan said.

Jain, a former McKinsey employee, is among a list of 20 witnesses who will testify for Gupta in his trial. Jain is likely to testify as a character witness for the ex-McKinsey head.

The India-born top executive at Berkshire has previously been interviewed by Gupta's defence team and has also met the prosecutors.

The prosecution is expected to wrap up its case after the defence finishes cross examining the star government witness Goldman Sachs CEO Lloyd Blankfein.

The trial of Gupta, who is charged with passing secret information about Goldman and Proctor and
Gamble to convicted hedge fund founder Raj Rajaratnam, is in its third week.
Judge Jed Rakoff, who is presiding over the case, has not been happy about the slow pace of the trial, which began on May 21.
Rakoff has described proceedings in court as "excruciating", particularly when the prosecution presented extensive phone records, emails and company information to the jury.
The court proceedings have on other occasions moved at a snail's pace, thanks to the objections raised by the two sides and their requests to hold "side-bars", during when the lawyers discuss with Rakoff details of the case out of the jury's ear shot.
At one point when the prosecution and defence were sparring over material that can be used as evidence in the case, Rakoff became visibly angry and admonished the two sides saying, "We have wasted far too much time in this trial arguing every little point to the 'nth degree and I don't want to hear anything more from either side".
Gupta has pleaded not guilty to one count of conspiracy and five counts of securities fraud, which carries a maximum term of 20 years in prison.
Image: Ajit Jain