Samsung Research Institute in Bengaluru is Samsung's biggest research and development (R&D) centre outside its headquarters in Seoul, and one that's driving many key innovations for the firm, says Peerzada Abrar.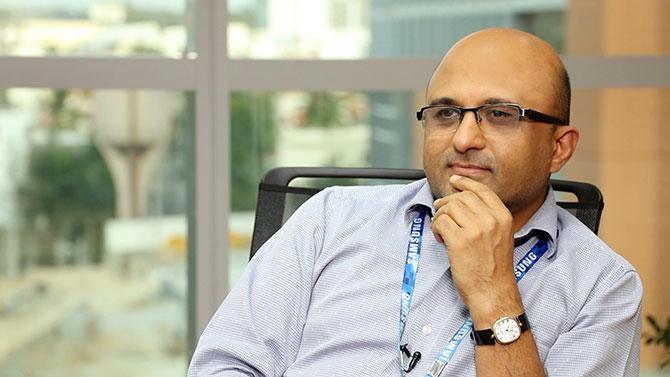 In 1994, Dipesh Shah quit his job in Bengaluru and joined electronics giant Samsung in South Korea.
What impressed the young engineer most about the firm were its technological innovations.
For instance, as soon as Shah landed in Seoul and drove out of the airport, he was able to make a phone call to his mother back home right from the car.
In those days, this was advanced, cutting edge technology.
Shah's engagement with Samsung and its technological innovations endured.
And when he came back to India in 1996, he became the company's first employee in the country and helped set up the Samsung Research Institute, Bangalore (SRI-B).
Today, SRI-B is Samsung's biggest research and development (R&D) centre outside its headquarters in Seoul, and one that's driving many key innovations for the firm.
These include global products based on deep technology areas such as the fifth-generation mobile network (5G), artificial intelligence (AI), computer vision and internet of things (IoT).
Samsung began its operations in India by hiring a good talent pool and then built solutions or services for particular problems.
And now it is all about R&D, says Shah, managing director, SRI-B, which is located in a Bengaluru suburb alongside firms such as Amazon and Qualcomm.
"We are in a phase where we are moving towards R&D," says Shah.
"Earlier, what was missing in India was what should we develop and why?
"So we thought, can we understand what Indian consumers want," says Shah, who is an alumnus of Visvesvaraya Technological University (VTU) and IIM-Bangalore.
This comes at a time when the world's biggest producer of smartphone screens, semiconductors and mobile phones has announced plans to invest about $22 billion over the next few years in areas such as AI and 5G technology.
And SRI-B is playing a key role in powering innovation in some of these areas.
For example, a large part of the image processing software for the camera that goes into all Samsung phones is made at SRI-B.
An example is the "scene optimiser", which enables the camera to automatically decide the best setting for taking a picture.
Another feature developed at SRI-B was the "super steady mode" to help users get stable videos or pictures.
SRI-B is also working on Samsung's voice-powered AI digital assistant, Bixby, which recognises speech in languages such as English, German, Spanish, Korean and Mandarin Chinese.
Bixby's understanding of the English language has been largely developed at SRI-B and has been customised for Indian accents.
SRI-B is also working towards making Bixby understand Indian vernacular languages in the future.
As for Samsung's latest flagship phone, Galaxy Note 10, SRI-B's contribution to it includes creating augmented reality-based drawings, effects and animations that can track users' faces and offer a fun way to interact with the surroundings.
It also worked on the phone's camera to come up with the "big bokeh" feature for selfies, a feature which replicates the effect created by DSLR cameras.
In the area of IoT, SRI-B is working on innovations where the phone can control devices such as microwave oven, refrigerator, washing machine and television at home or office through the Samsung Cloud.
"You can create automation for home devices.
"For example, in summer your phone would know you are reaching home and switch on the AC 15 minutes before you arrive," says Shah.
Samsung is also customising some of its global innovations to suit the needs of the Indian market.
In March this year, the company unveiled Samsung Pay in collaboration with major Indian banks to enable contactless payments.
Samsung Pay uses 'magnetic secure transmission', or MST technology, which generates a magnetic signal similar to that of a traditional payment card when swiped.
Though Samsung Pay originated in the US, realising that India had minimal credit card penetration, the company customised the platform for debit card and credit card users.
The firm has also introduced a Samsung Pay mini-feature in lower-end phone models.
Analysts say that SRI-B is important for Samsung owing to the huge market opportunity in India and also for building features that cater to local consumer needs.
SRI-B, together with two other R&D facilities in Delhi and Noida, employs over 9,000 engineers.
"From a global point of view, India is already their main market and also the second biggest manufacturing hub (after Vietnam).
"In the past one year, their exports from India has increased by 20 times," says Tarun Pathak, associate director at research firm Counterpoint.
India is the world's second-largest market for smartphones after China.
According to an Assocham-PwC study, the number of smartphone users in the country is expected to double to 859 million by 2022 from 468 million in 2017, growing at a compound annual growth rate (CAGR) of 12.9 per cent.
Samsung is wooing India's startup community as well to help the company build future technologies.
In July this year, Samsung Venture Investment Corporation (SVIC) said it had made maiden investments totalling around $8.5 million (~58 crore) in four Indian start-ups.
These include system apps company OS Labs (also known as Indus OS), speech technology start-up Gnani.ai, and IoT solutions provider Silvan Innovation Labs.
Samsung hopes to integrate many of the innovations of these companies into its own portfolio of products.
Bengaluru-based Gnani.ai, for instance, works in the space of automatic speech recognition and natural language processing in Indic languages.
The investment in Gnani's ASR engine has the potential to power Samsung's Bixby vernacular service in the future.
Silvan Innovation Labs provides IoT solutions for homes and enterprises, also addressing issues such as security, convenience, and energy management.
With an installed base of 6,000-plus homes and 12 live communities, Silvan's products and IoT platform will add value to Samsung's efforts to have all its products IoT-ready by 2020.
Another portfolio company OS Labs has developed a curated app store, Indus App Bazaar, which has a collection of over 400,000 mobile apps in multiple Indian languages.
Samsung recently partnered with OS Labs to launch the new Galaxy Store, powered by Indus App Bazaar.
This brings app discovery and download experience to consumers in 12 Indian languages, in addition to English.
"We are democratising the innovations so we can take them to millions of our users at any point in time," says Shah.