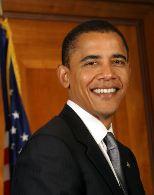 The multi-billion dollar fiscal stimulus pumped into the US economy by President Barack Obama at the height of the global economic crisis has exceeded the original goal of creating or saving 3.5 million jobs by the end of 2010, a White House report said on Thursday.
The Council of Economic Advisers (CEA), in its latest quarterly report on the economic impact of the fiscal stimulus launched under the American Recovery and Reinvestment Act of 2009, said it played a key role in changing the trajectory of the economy.
"Specifically, the Recovery Act added 2.7 per cent to third quarter GDP growth and by some measures has exceeded the original goal of creating or saving 3.5 million jobs by the end of 2010," said the report.
The report also shows that the third quarter was the biggest yet for public investment spending, with more than $33 billion spent on clean energy, transportation and other infrastructure projects.
According to the CEA's analysis, public investment spending supported over 1 million jobs nationwide through the third quarter of 2010.
"Public investment spending was responsible for more than 1 million jobs in the third quarter. Clean energy investments were responsible for nearly a quarter of the 1 million public investment jobs -- or 224,500 clean energy jobs," it said.
"Less than $20 billion of discretionary programme funding remains 'unobligated' and the majority of those funds have already been awarded," the report said.
It shows that the GDP began to grow in the third quarter of 2009 and has now grown for five quarters in a row, including continued growth in the third quarter of 2010.
Click NEXT to read on…
© Copyright 2023 PTI. All rights reserved. Republication or redistribution of PTI content, including by framing or similar means, is expressly prohibited without the prior written consent.