In 2019-20, the Indian banking sector saw a 159 per cent jump in dubious transactions to Rs 1.86 trillion.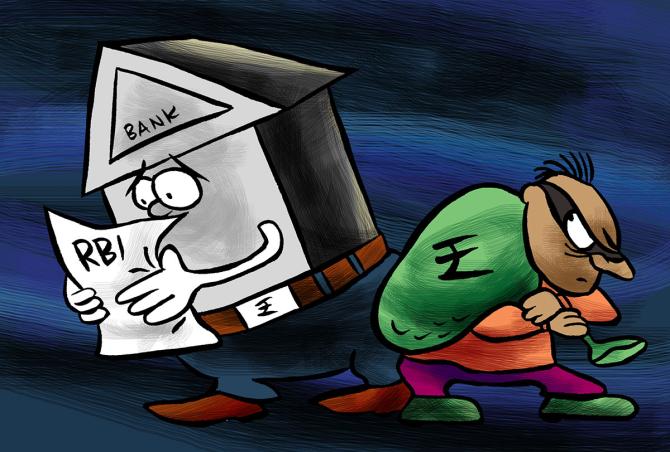 Banks operating in India reported fraud of Rs 4.92 trillion as on March 31, 2021, which represents nearly 4.5 per cent of the total bank credit, showed Reserve Bank of India (RBI) data, which was sought under the Right to Information (RTI) Act by Saurabh Pandhare.
The data showed 90 banks and financial institutions reported a total of 45,613 cases of loan fraud till March 31, 2021.
State Bank of India – the country's largest lender – reported the highest amount of loans as fraud - Rs 78,072 crore as on March 31, 2021.
SBI is followed by Punjab National Bank (Rs 39,733 crore), Bank of India (Rs 32,224 crore), and Union Bank of India (Rs 29,572 crore).
"Bank-wise data on frauds of banks which got merged with other banks later (such as Andhra bank, Corporation Bank etc) is provided as reported by each bank during the period during which the bank was operational," RBI said in the RTI report.
The top five banks account for 42.1 per cent or Rs 2,06,941 crore of the total frauds classified by the banks.
Among private sector banks, ICICI Bank led the amount involved in loan frauds (5.3 per cent), followed by Yes Bank (4.02 per cent) and Axis Bank (2.54 per cent).
These three private sector banks constituted 11.87 per cent of the total amount involved in loan fraud.
Largest private sector lender HDFC Bank's amount involved in the loan frauds was 0.55 per cent of the total.
RBI norms require banks to make 100 per cent provision for the entire amount that has been classified as fraud.
In 2019-20, the Indian banking sector saw a 159 per cent jump in dubious transactions to Rs 1.86 trillion according to RBI's annual report.
The data, which pertains to frauds that are above Rs 1 lakh, shows the number of frauds grew by 28 per cent to 8,707 in FY20 from 6,799 in the previous financial year.
There was a concentration on high value frauds with top 50 credit accounts contributing 76 per cent of the frauds reported in 2019-20.
Between 2014-15 and 2019-20, banks reported frauds worth Rs 3.6 trillion, RBI data shows.
RBI data for FY20 and FY19 showed an overwhelming number of frauds related to loans.
Advances related frauds were 90.2 per cent in FY19 and 98.1 per cent in FY20, respectively.
Frauds related to off-balance sheet items, deposits and internet form a minuscule proportion of credit related frauds.
This means most frauds were committed by borrowers.
One of the reasons for the sharp rise in reported number of frauds in the last few years is a government directive issued in February 2018, bankers said.
The directive, issued by the finance ministry, mandated lenders to probe all non-performing accounts of Rs 50 crore and above for possible fraud and report it to the Central Bureau of Investigation (CBI).
This is one of the main reasons why reporting of frauds surged since 2018-19.
Banks become proactive in declaring frauds, though a process is followed, like conducting forensic audits before a fraud is declared.
Wilful defaulters
Data obtained by the same RTI application showed that 2,261 accounts have been identified by the banks as wilful defaulters as on December 31, 2020, with the total amount involved at Rs 1.72 trillion.
Sequentially, the amount of wilful default is up 4.5 per cent as compared to end September, i.e. from Rs 1.64 trillion.
A total of 147 new wilful defaulters were identified by lenders during the October – December quarter.
These lenders owed Rs 5,785.93 crore to the banks.