For investment bankers, a Brexit vote is more than just about volatile prices on a screen but also about where they may end up working and living.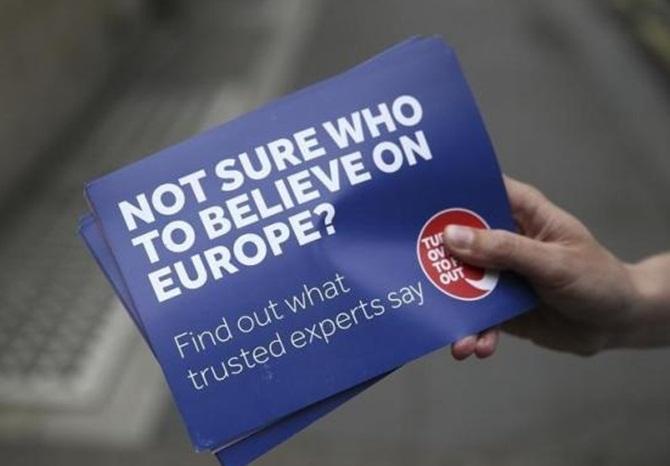 Bankers' early confidence that Britain would remain within the European Union quickly evaporated after vote counts suggested the "leave" camp had the upper hand, sending sterling plummeting and heart-rates racing on trading floors from London to Hong Kong.
Results from Sunderland and Newcastle, two north-eastern cities in England, were interpreted by investors as harbingers of a possible victory for Brexit and they moved swiftly to sell sterling, after earlier pushing it to a 2016 high on hopes that the "remain" side would swoop to victory.
The mood swing was dramatic.
"Newcastle was a squeaky win for Remain but Sunderland was a huge kick in the ribs and the bottom has fallen out of the pound," said Jeremy Cook, chief economist at the international payments company, World First.
"These markets are thin, liquidity is poor and a recovery is obviously possible but those traders who were looking to book a quick profit before a restful night's sleep have had their ideas shattered."
Months of bitter campaigning has left the industry - which earned the nation 190 billion pounds in 2014 - deeply divided, with investment banks and insurers pitted against many fund managers and brokers who wanted a Brexit.
A total of 243 out of 382 counting areas had declared their results by 0304 GMT, with a 51.1 percent majority vote for leave.
The final official result is expected around 0600 GMT.
All the major international and British banks in London, including Citi Deutsche Bank, JPMorgan, Goldman Sachs and Barclays had traders either working through the night or on call.
But bankers in New York were also burning the midnight oil with special numbers laid out for hedge fund clients to call, foreign exchange desks fully staffed and senior management keeping a fretful eye on screens.
On Citi's foreign exchange desk in London, dealers were only accepting voice orders and only desk heads had the authority to approve trades, according to a source at the bank.
"Despite the close nature of the count, markets are on the move. We are clearly seeing a very dramatic flight to safe-havens across markets in Asia," Bill O'Neill, Head of UK Investment Office, UBS Wealth Management, said.
Sterling fell to $1.3459 versus the Dollar at 0306 GMT, the lowest level seen since September 1985.
"Clearly markets will turn their focus to the immediate reaction of G7 central banks in calming what is likely to be volatile opening across Europe," O'Neill added.
For investment bankers, a Brexit vote is more than just about volatile prices on a screen but also about where they may end up working and living.
London is Europe's financial hub and international banks have their European headquarters based there, using Britain membership of the EU to sell their services freely across the bloc.
European government officials have warned that British-based firms could lose their 'passports' if the country opts to leave, a move that would force them to shift some operations to the likes of Frankfurt, Paris or Dublin if they wanted to continue serving EU clients.
"This is the biggest vote in my lifetime. Black Wednesday and the impact of Lehman Brothers collapsing - these other big events don't even compare in magnitude to this," said Mark Boleat, Chairman of the City of London's Policy and Resources Committee.
"We are just beginning to think through what will have to happen legally and it is massive, absolutely massive," he told Reuters.
While Brexiteers insist Britain's financial industry -- the biggest in Europe -- should thrive once the EU shackles are shed, some of its biggest employers including JPMorgan, Citi and HSBC have warned London jobs will be lost if they have to move some operations to the continent.
Reflecting the uncertainty that will hit the financial services sector, Hong Kong-listed shares of HSBC and Standard Chartered fell more than 8 percent, while UK-listed banks are expected to post sharp declines when they start trading in London.
The Bank of England is on high alert to provide emergency support should financial markets buckle when the result emerges.
(Additional reporting by Vikram Subhedar and Lawrence White in London)