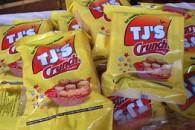 Residents of Delhi and NCR region will get a taste of culinary skills of Tihar jail inmates as bakery products prepared by them will be available in most shops and stores across the city.
Tihar Jail (TJ) Brand products, which the officials say are in huge demand, are available in a total of 29 stores including Kendriya Bhandar till now.
However, "now most shops and stores in the city and NCR region will sell bread, bakery biscuits, buns, cake (muffins), rusk, namkeens, namakpaare, wafers, patties, pickle, papad, vermicelli etc made by Tihar inmates," a jail official said.
"We are having a meeting with 146 distributors from Delhi and NCR region tomorrow. We will select the right distributors on whom we can shoulder the responsibility of making available our products in every nook and corner of the city and in NCR region. In a month's
time, residents of Delhi can get Brand TJ products in their nearest stores," he said.
Also, a TJ outlet will be opened in Deen Dayal Upadhyaya Hospital which will be the first hospital to give its patients bread made by Tihar inmates.
"We are opening up an outlet in the DDU hospital and our bread will be supplied to the hospital canteen for consumption by patients admitted there," he said.
"The more the products sell, the more it increases the job opportunities for the inmates inside the prison and he or she also gets to earn well. It will also help in the rehabilitation programme for the prisoners," another jail official said.
He said the jail earned Rs 2.37 crore (Rs 23.7 million) last year by selling these products. "We intend to reach a large section of people. We are aiming at attaining the goal of Rs 15 crore (Rs 150 million) annual turnover this year. To meet this goal we are also advertising the products through FM radio," the official said.
© Copyright 2022 PTI. All rights reserved. Republication or redistribution of PTI content, including by framing or similar means, is expressly prohibited without the prior written consent.