Few scam-related stocks regain lost glory, Deepak Korgaonkar and Puneet Wadhwa point out.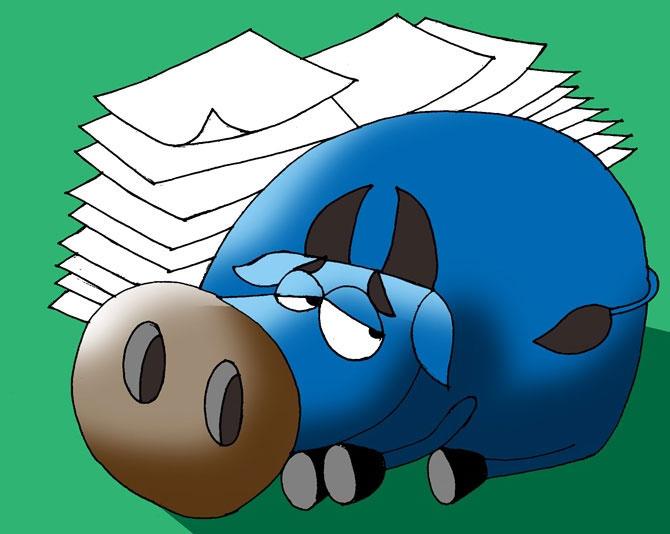 Illustration: Uttam Ghosh/Rediff.com
Nearly a dozen companies that have been named in various scams, frauds or price rigging at the bourses in over two decades have lost over 90 per cent of their market value from their all-time high levels, data show.
For instance, sample the stocks related to Ketan Parekh, the former stock broker from Mumbai convicted in 2008 for his involvement in the Indian stock market manipulation scam in late 1998 to 2001.
Some of the famous Ketan Parekh (K-10) stocks like Himachal Futuristic Communication (HFCL), GTL and Pentamedia Graphics -- and Mukta Arts, Tips industries and Pritish Nandy Communications, in which Ketan Parekh had a huge exposure -- are currently trading up to 99 per cent lower than their peak levels recorded in 2000.
During the 1998-2001 period, Parekh artificially rigged prices of select stocks (informally referred to as K-10 stocks), using large sums of money borrowed from banks, including Gujarat-based Madhavpura Mercantile Co-operative Bank, where he was a director.
Similarly, Unitech and DB Realty, whose promoters were named in the 2G telecom spectrum scam of 2009, have lost over 85 per cent of their market value from peak levels.
This was even as a special Central Bureau of Investigation court acquitted all accused in the 2G telecom spectrum scam in December 2017.
After the CBI special court's decision, DB Realty zoomed 130 per cent from Rs 36.45 on December 20, to Rs 83.80 on January 10, 2018. The stock is currently trading at Rs 58.15 on the BSE.
It had hit an all-time high of Rs 540 on March 31, 2010, in intra-day trading.
"A scam shakes investor confidence in the companies involved. As a result, the stocks take a beating. As regards the K-10 stocks, there is nothing left in the companies. Most of them are on a weak fundamental footing and have been unable to recover lost glory at the bourses," explains G Chokkalingam, founder & managing director, Equinomics Research.
Oriental Bank of Commerce slipped 12 per cent to its 52-week low of Rs 92.50 on February 26 after reports suggested that the CBI had registered a case against a Delhi-based jeweller on a complaint from government-owned bank for Rs 3.9 billion loan scam.
Investors in Gitanjali Gems and D S Kulkarni Developers, too, have lost 96 per cent of their total market wealth from their respective all-time highs of Rs 650 on April 24, 2013, and Rs 450 on December 8, 2006, respectively.
In case of Gitanjali Gems, its managing director, Mehul Choksi, has been named in the alleged Rs 114 billion scam at Punjab National Bank.
At the heart of this scam is the country's second-largest lender, PNB, which has seen its stock price drop 30 per cent to Rs 113 since the scam came into public domain on February 14.
"As regards PNB, the existing outstanding net non-performing assets are close to the company's financial net worth," says Chokkalingam.
"On top of this, we have the Rs 114 billion scam that has been unearthed. This is likely to keep the stock under pressure. That said, one can buy PNB in the range of Rs 100 to 110 from a long-term perspective," Chokkalingam adds.
Stock of Pune-based D S Kulkarni Developers hit a low of Rs 15.75, down 77 per cent from its 52-week high level of Rs 69.75 touched on April 17, 2017.
The founder & chairman (D S Kulkarni), was arrested recently after the Bombay high court refused to extend his anticipatory bail application in a cheating case.
Meanwhile, analysts at Jefferies have maintained a hold rating on PNB, with a price target of Rs 110.
'We forecast a loss of Rs 76 billion in FY18E (loss of Rs 87.6 billion in Q4) and capital infusion of around Rs 55 billion. Lower price target to Rs 110; retain hold rating,' wrote Nilanjan Karfa and Harshit Toshniwal of Jefferies in a February 21 report.