Stylish, sleek, a coupe-like sedan with generous amount of space is what the Slavia is all about.
Photographs and video: Hitesh Harisinghani and Rajesh Karkera/Rediff.com
Even as the pandemic, and the subsequent chip shortage gave flat tyres to most automakers, Škoda took a bold step and launched its premium mid-sized sedan, the Slavia. Made in Pune, Maharashtra, Slavia was launched globally from Princess Dock in Mazgaon, Mumbai, recently.
Slavia is Škoda's second model to debut in its India 2.0 project, the first being the Kushaq.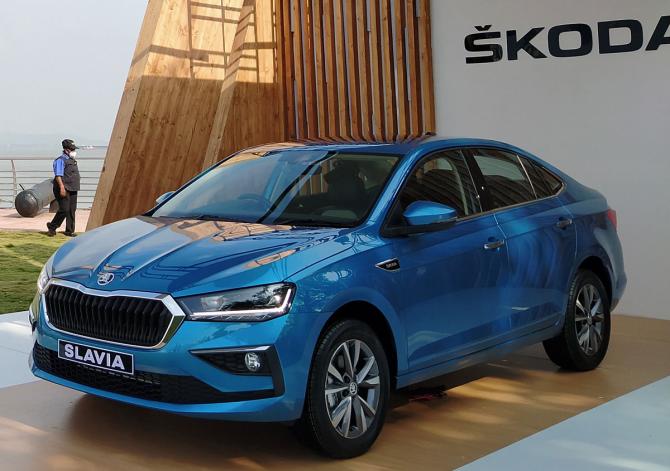 The Slavia is manufactured with a localisation level of up to 95 per cent.
As the sedan is based on the MQB-A0-IN platform -- an MQB variant specially adapted by Škoda Auto for India -- it offers a comprehensive range of safety features and advanced infotainment systems.
The power output of the TSI engines available for the Slavia is 85 kW (115 PS) and 110 kW (150 PS) respectively, and just like other Škodas, this model is characterised by an emotive design.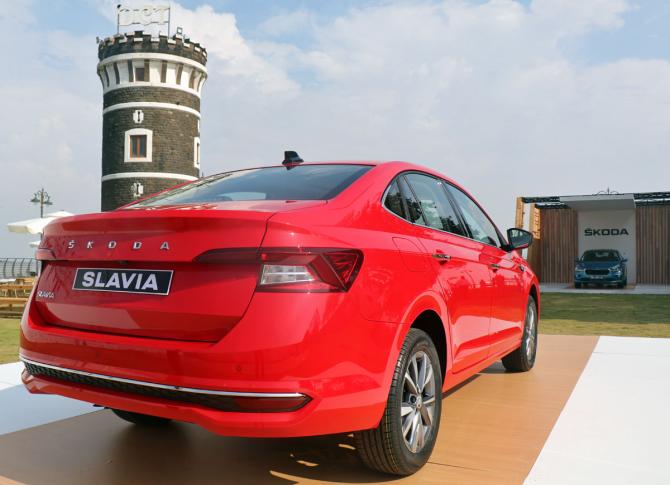 One look at the Slavia and you cannot take your eyes off it.
Stylish, sleek, a coupe-like sedan with generous amount of space is what the Slavia is all about.
This is definitely a bigger car than the one it's going to replace in the stable of the Czech automobile manufacturer.
If you didn't know it yet, the Slavia is going to replace the Škoda Rapid.
Visually it is clearly a very good-looking sibling of the Octavia.
The huge front grille shows its meanness and blends itself very well in between the headlight assembly.
In the top variant, both the headlights and taillights are LEDs.
The entry-level headlights come with halogen lamps for low beams and high beams, while the DRLs give an impressive look placed just above the crystalline design element.
See the video below to experience the exterior and the interiors of the Škoda Slavia
Although the prices of Škoda Slavia have not been revealed yet, It is now open for booking and will come in five stunning colours, a new Crystal Blue, Tornado Red, Candy White, metallic Reflex Silver and metallic Carbon Steel.
It will also come with three different wheel size options measuring up to 16 inches. I wish there was a 17-inch option too!
The Slavia will be available only in petrol, with two TSI engine options.
A 1.0 litre turbo-petrol engine which will churn out 115hp and 175Nm of torque and a 1.5 Litre four-cylinder turbo–petrol engine with 150hp and 250Nm of torque.
Both these powerful engines will have a six-speed manual gearbox as standard.
A six-speed automatic transmission is optional, while the top-of-the-range 1.5 TSI can also be fitted with a seven-speed DSG.
Deliveries will start from the 1st quarter of 2022.
The starting price of Slavia is likely to be Rs 11 lakh ex-showroom.