Ministries such as road transport and heavy industries are learnt to have objected to NITI Aayog's attempts to become an implementing body for the EV programme.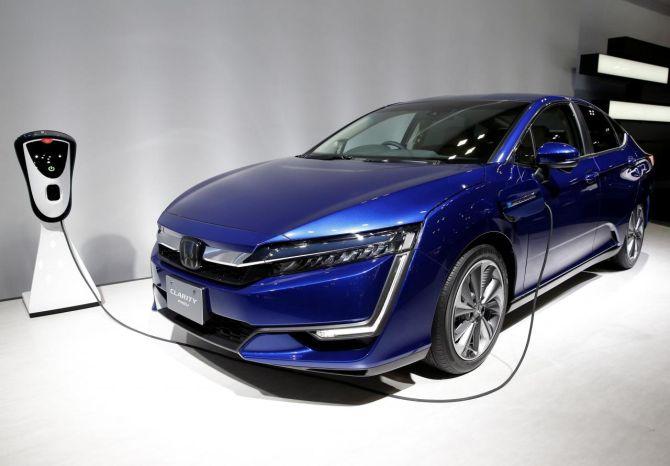 India's drive towards becoming an electric vehicle (EV) market is proceeding shoulder to shoulder with another race.
Government departments and ministries are in a race to own EVs and promote the cause of electric mobility in the world's largest two-wheeler and fifth-biggest car market.
The NITI Aayog, the government's policy think tank, had plans to release the country's first EV policy in December and the draft was circulated among various ministries for comments.
But ministries such as road transport and heavy industries are learnt to have objected to the think tank's attempts to become an implementing body for the EV programme and also assign roles to ministries.
The result: This Aayog policy remained a draft and did not reach the Union Cabinet for approval.
The draft is being revised, according to an industry executive familiar with the developments.
The Ministry of Heavy Industries is learnt to have objected to the draft policy's suggestions to shift the National Electric Mobility Mission Plan, under which incentives are given for Faster Adoption and Manufacturing of (Hybrid &) Electric Vehicles (FAME), to the Aayog.
FAME has been under implementation by this ministry since April 2015.
The draft said the Aayog would be the nodal agency for FAME, which it will restructure and implement.
The heavy industries ministry, the designated nodal ministry for the automobile industry, last week said that subsidies worth Rs 4.37 billion would be doled out in 11 cities for launching electric buses, taxis, and three-wheelers.
The road ministry is learnt to have had the strongest reservations about some suggestions in the draft.
"The NITI Aayog's role is to develop good policies and they should do that. They should not become an implementing agency. Implementation should be given to anybody deemed fit by the Cabinet," Road Transport Minister Nitin Gadkari was quoted as saying in a November interview to business daily Mint.
Gadkari had earlier given a veiled threat to the auto industry in September that it must switch to clean vehicles or get "bulldozed" by the government.
His ministry has been taking initiatives to promote electric mobility, especially in the public transport space.
It is responsible for setting emission norms for the auto industry and has a role to play in the decision to leap from Bharat Stage (BS)-IV norms to BS-VI by 2020.
One of the first serious voices in the government on electric mobility came in March, when then Power Minister Piyush Goyal said the government was assessing possibilities of having an all-electric vehicle market in the country by 2030.
Accordingly, Energy Efficiency Services (EESL), a company promoted by four public sector undertakings in power, floated a tender to purchase 10,000 electric cars in August. Goyal was monitoring the developments in this tender but a Cabinet reshuffle resulted in Goyal becoming railway minister (besides coal) while power was given to R K Singh.
One of the initial meetings that Singh took was on electric mobility was attended by stakeholders from the industry. Singh asked for a white paper on electric vehicles from the automobile industry.
EESL plans to come up with another tender after a successful first round, in which Tata Motors and Mahindra & Mahindra emerged winners.
NTPC, a shareholder in EESL, has ventured into setting up charging stations for electric vehicles.
Automobile industry executives say that given the current environment it is not clear as to which ministry or department they must approach to effectively communicate and discuss issues in the transition to electric vehicles.
Most communication so far was being done with the Aayog because it was working on this policy.
"We understand that a few ministries and departments will have to work together to iron out all issues and facilitate the transition to electric mobility.
"But there is no clarity on the roles of these departments at this stage," said an industry official.
Photograph: Toru Hanai/Reuters