The Paris motor show has always been a major draw in the motoring calendar.
Unlike previous Paris shows, where new diesel models took centerstage, much of the buzz this year centred around hybrids and electric vehicles.
And despite the fact that big name brands like Bentley, Rolls Royce, Lamborghini, Aston Martin, Ford, Volvo and Mazda skipped the 2016 edition, there was no shortage of concepts on display.
Scroll down to see incredible concept cars that made Paris 2016 one of the most exciting car shows in recent memory:
---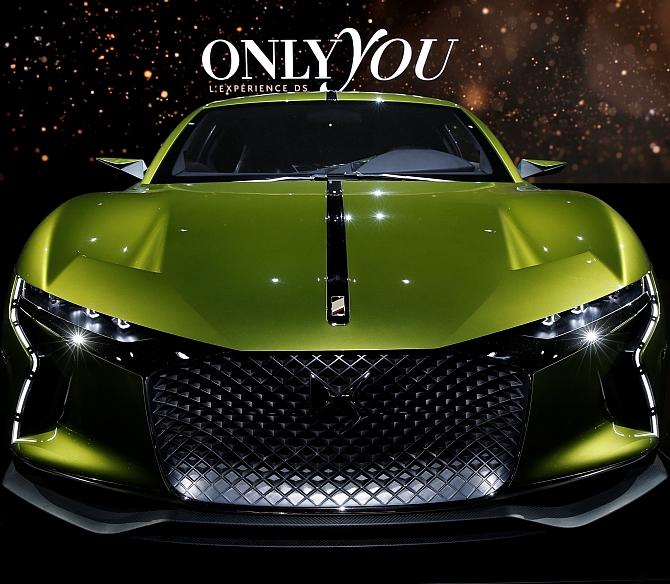 The DS electric E-Tense. It is a two-seater GT that packs a 380lb ft electric punch and it is claimed to be capable of 0-62mph in 4.5sec. DS says that the new concept encapsulates 'the brand's technological and stylistic vision'. A set of lithium-ion batteries are mounted beneath the floor, to help keep the car's centre of gravity low, while a flat underbody and carbonfibre diffuser work to cut drag. Photograph: Benoit Tessier/Reuters
---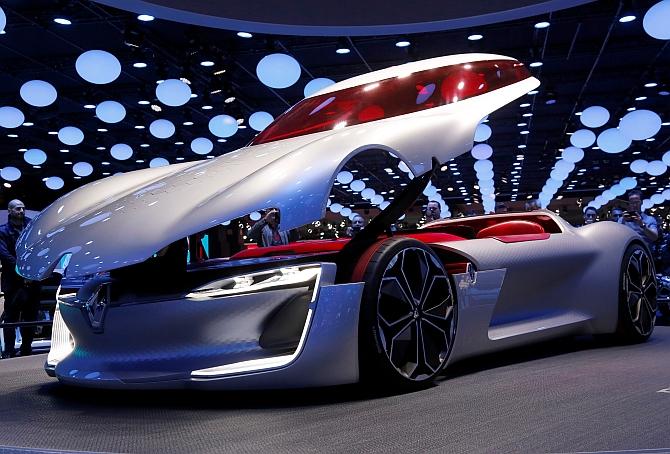 The Renault Trezor. The car has carbon fibre bodywork. With 350 hp and 380 Nm of torque, it will hit 100 km/h (62 mph) in four seconds flat. Photograph: Jacky Naegelen/Reuters
---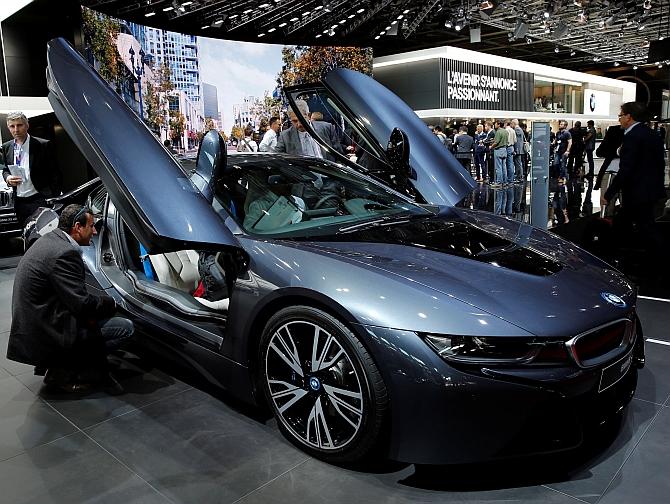 The BMW i8. The i8's design is one of its biggest selling points, considering it's one of the most eye-catching cars money can buy. The i8 is a wide car measuring 6.5ft, but the width coupled with the low, stooping nose means it has serious presence. Photograph: Benoit Tessier/Reuters
---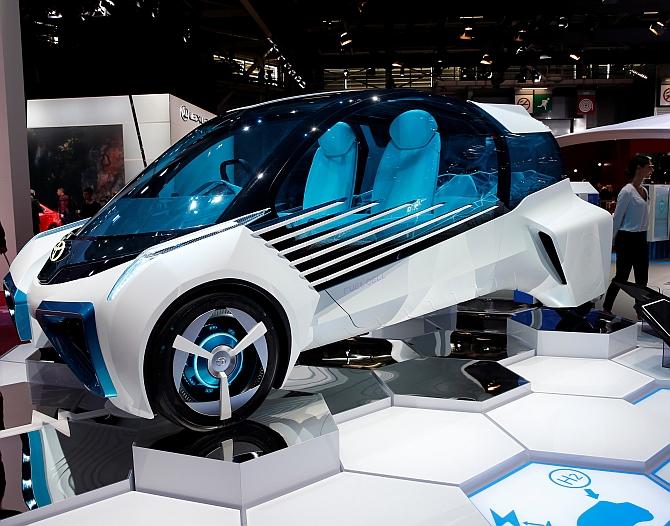 The Toyota FCV Plus. The FCV Plus previews Toyota's vision of the future of the car, using compressed hydrogen as its fuel source. When the car isn't in use for transport, it can be used as a generator to make electricity for the driver's home; it can also be used away from the home, and when not in use, it puts energy back into the grid. Photograph: Benoit Tessier/Reuters
---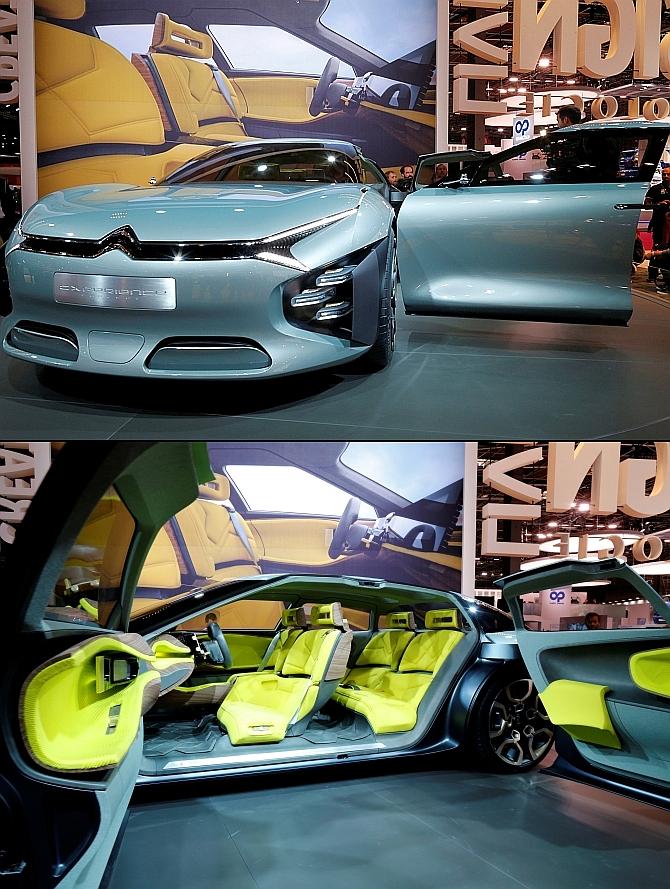 The Citroen CXperience. Citroen says that the CXperience is a plug-in hybrid that mates a gasoline unit to an electric motor, and that it could drive up to 60 kilometers in full electric mode with a full battery. It is a saloon that has a two-box configuration and only offers room for four people, as the rear bench has been split into two joined seats, each tailored to fit a human body with the utmost comfort. Photograph: Benoit Tessier/Reuters
---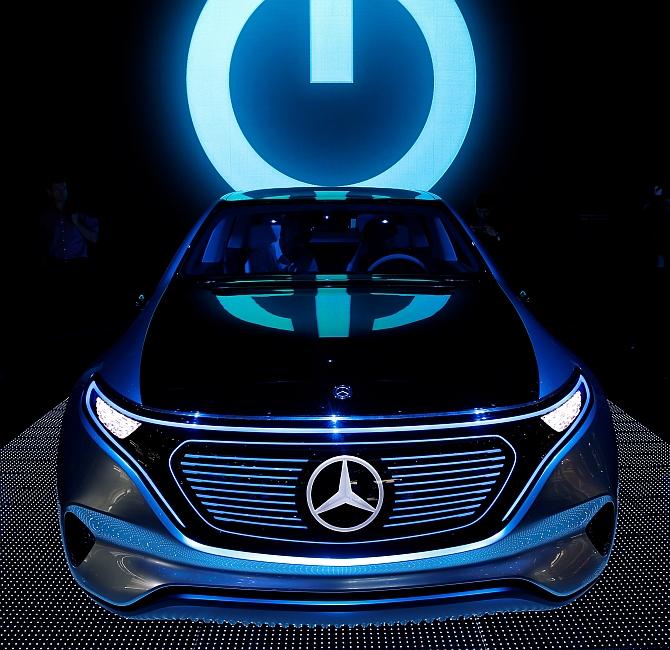 The Mercedes EQ. The EQ will basically take on Tesla and BMWi in the EV (electric vehicle) space and Google or Apple in the AV (autonomous vehicle) area. The concept shown at Paris is a 4WD SUV/crossover. Although it's fitted with a glowing, blue front grille and slick LED lights, the EQ Generation still looks like a regular SUV, which could be key when it comes time to hit the market. Photograph: Benoit Tessier/Reuters
---
The Audi RS7. With a mammoth 445kW of power and 750Nm of torque, the concept will hit a head-spin-inducing 0-100km/h in just 3.7 seconds. Photograph: Jacky Naegelen/Reuters
---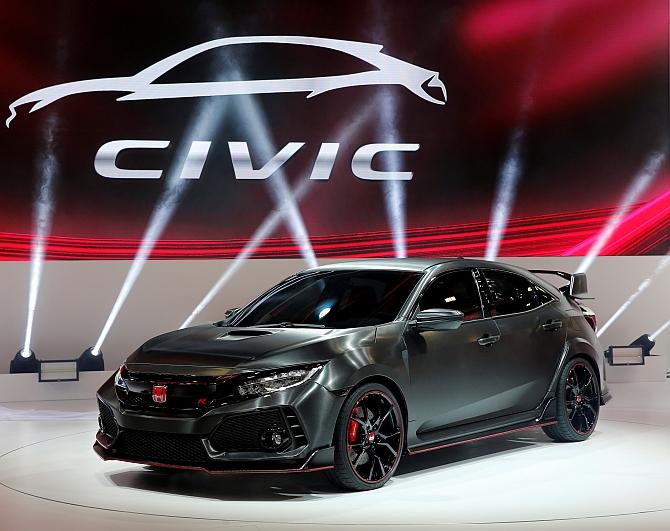 The Honda Civic Type R Prototype. It is designed to have a muscular build that actually aids aerodynamic performance. It is accentuated with carbon fiber side skirts and splitter, a reflective brushed aluminum-effect finish, a sporty red accent line running the base of the exterior and a rear spoiler. Specs and pricing have not yet been announced, but according to media reports a front-wheel drive is a certainty with rumoured power figures in the 300 to 345 hp range. Photograph: Benoit Tessier/Reuters
---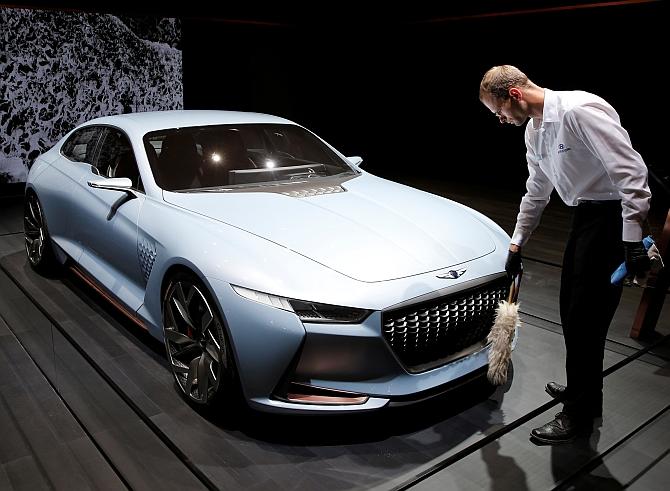 The Genesis New York. This concept car is powered by a four-cylinder 2.0-liter engine and an electric motor, which would make it a hybrid. The total power of the system sits at 242 hp and 260 lb-ft of torque (352 Nm). Photograph: Benoit Tessier/Reuters
---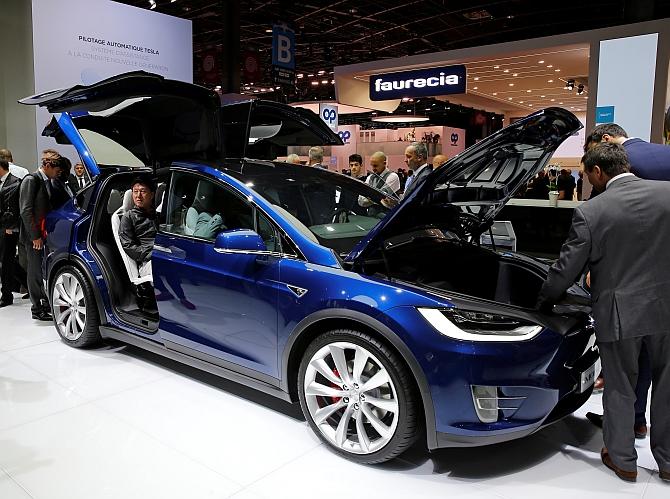 The Tesla Model X. With its falcon-wing rear doors, impossibly fast pickup, 17-inch touchscreen control panel and autopilot option, this vehicle is as much a computer as it is a car. One great feature that Tesla's operating system 8.0 included is Cabin Overheat Protection, which prevents the interior temperature from exceeding 105 degrees by automatically triggering the air conditioning, even if no one is inside. Photograph: Benoit Tessier/Reuters
---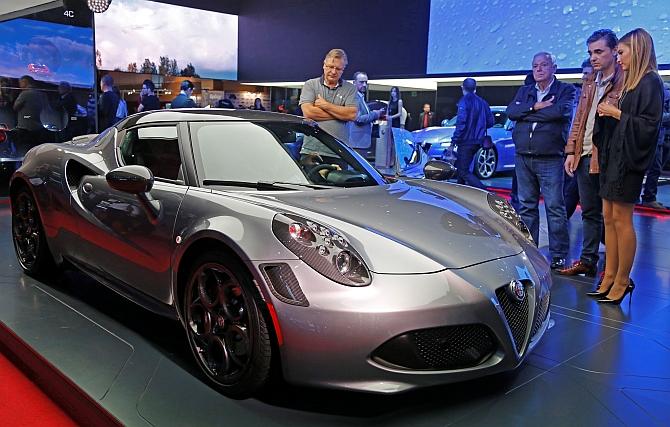 The Alfa Romeo C4. The new Alfa Romeo will come with two new engine options; a 208kW (400Nm torque) 2.0-litre Turbo petrol and the 157kW 2.2-litre Diesel, both with 8-speed automatic transmissions and the unprecedented Q4 all-wheel drive. Photograph: Jacky Naegelen/Reuters
---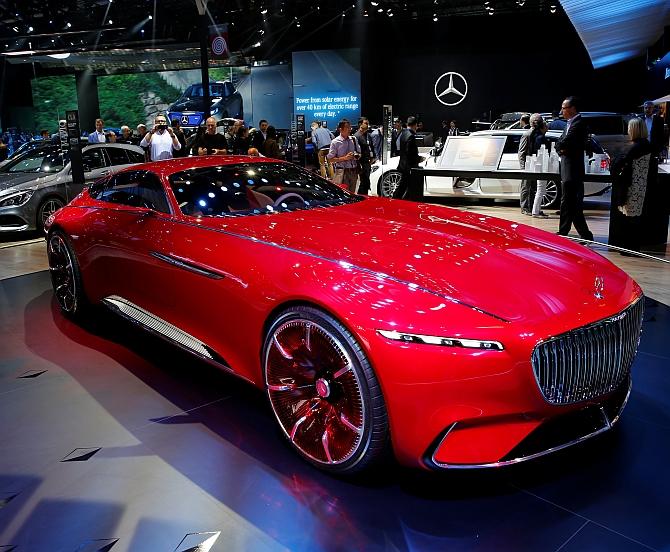 The Vision Mercedes-Maybach 6. At almost six metres long, the Vision Mercedes-Maybach 6 is a (very) long-wheelbase coupe that's destined, when it hits production in 2017, to rival the Rolls-Royce Wraith and other super-luxurious sporting models. Official details show that the concept is powered by an electric powertrain with 740bhp, but with a range of over 200 miles. Performance figures are impressive too: 0-62mph takes less than four seconds and the top speed is limited to 155mph. Photograph: Benoit Tessier/Reuters
---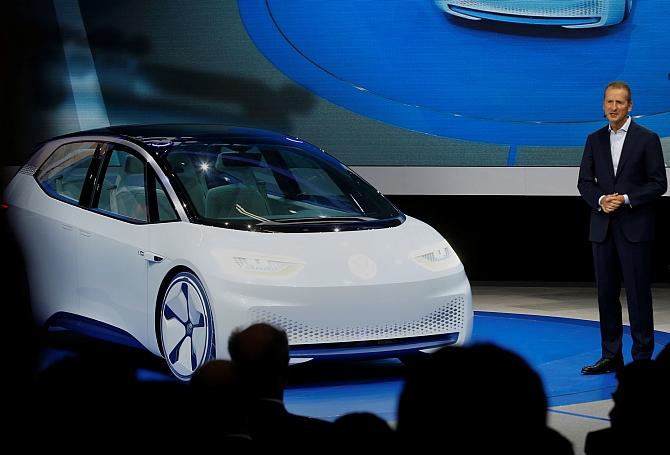 The Volkswagen ID. With a range of up to 371 miles and a 25kW electric motor, the five-door, four-seater ID is more than an urban runaround. According to Herbert Diess, chief executive of VW, ID will be a true, "peoples' car", Golf sized on the outside and Passat sized on the inside. Augmented virtual reality will control all the functions, "no switches, no sticks, just screens". It will on sale by 2020. Photograph: Jacky Naegelen/Reuters
---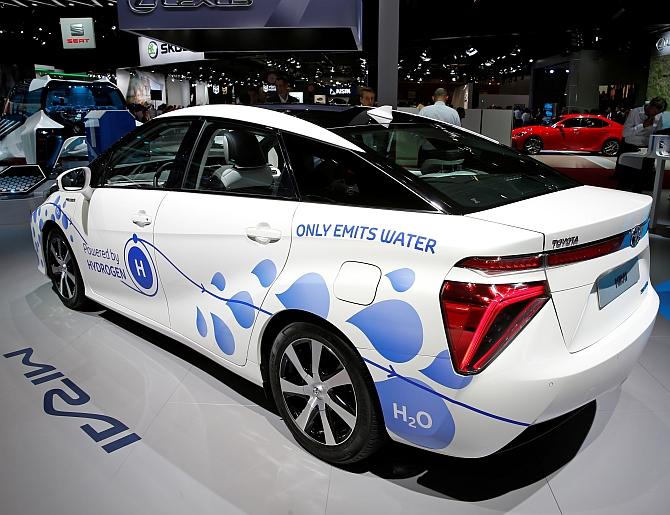 The Toyota Mirai. Toyota's latest entry is an electric-motor vehicle that boasts a range of 500 kilmotres and can be refuelled in three to five minutes. The Mirai is powered by an electric motor, but unlike the plug-in Tesla Model S, Nissan Leaf or Chevy Bolt, the Mirai's energy is stored not in a battery but in a tank of hydrogen. It moves from zero to 60 mph in a leisurely 9 seconds -- its 113-kilowatt motor makes the equivalent of 151 horsepower and 247 pound-feet of torque. Photograph: Benoit Tessier/Reuters
---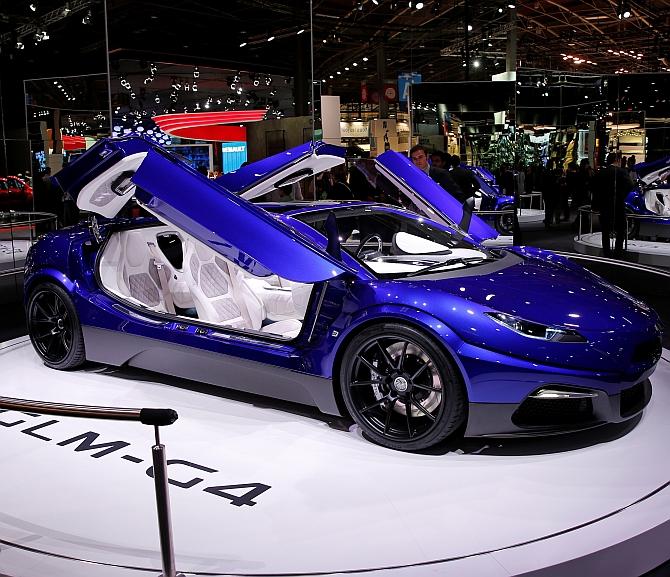 The Roadyacht GLM-G4. The G4 features an electric motor at each axle and a combined output of 536 horsepower and 737 pound-feet of torque. As a result, the vehicle can accelerate from 0-62 mph in 3.7 seconds or less and reach a top speed of 155 mph. Photograph: Benoit Tessier/Reuters