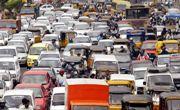 At a time when weak macroeconomic conditions have set alarm bells ringing among stakeholders in the domestic automobile industry, component makers are scaling up exports to bail their way out of trouble.

While automobile lighting systems manufacturer Lumax Industries has been introducing new product lines to sustain business on foreign shores, Anand Automotive is working with collaborators Behr and Mahle (Germany) to double international business to Rs 1000 crore by decade-end.

"There is a tremendous opportunity to grow exports. India currently accounts for less than one per cent in the global component sourcing business.

"We expect our revenues from international business to double from the current Rs 550 crore (Rs 5.5 billion) by decade-end", said Sandeep Balooja, president (group business development), Anand Automotive Limited.

The company mostly exports products from India to collaborators in Europe and the United States.

The group, which recorded revenues of Rs 5,600 crore (Rs 56 billion) last fiscal, is investing Rs 1,100 crore (Rs 11 billion) to expand capacity at existing facilities and develop technology over the next four years.

National Engineering Industries, which makes bearings for vehicles, too, has set aside Rs 500 crore (Rs 5 billion) to set up a new facility in Gujarat.
The unit would primarily meet demand in the international markets and supply components to Maruti Suzuki and Hero MotoCorp.

Rohit Saboo, president and CEO, NEI, said, "Our exports more than doubled to account for 11 per cent of our business this year.

"Hero MotoCorp has said the company is open to set up bases overseas.

"If they do, we are ready to invest with them and expand presence globally."

The company, which supplies products to markets in the US, Brazil, South Africa, Italy and Germany, expects exports to contribute a fifth to its turnover by 2015.

According to estimates shared by industry body Automotive Component Manufacturers Association, while revenues in the domestic component industry are expected to increase by a modest five-eight per cent over the $43 billion registered in FY12, exports are slated to rise from $6.7 billion by 15-20 per cent.

Europe, itself mired in a slowdown, continues to be the largest export market for Indian component manufacturers. As much as 35 per cent of all auto components are exported to Europe.

Vinnie Mehta, executive director, ACMA explained, "While Europe is sluggish, Germany, a key export market in the region, continues to be stable."

Arvind Kapur, MD and CEO, Rico Auto Limited concurred. "We expect our overseas sales to increase at least 25 per cent this fiscal."


The company recorded 12 per cent of its revenues of Rs 2,200 crore (Rs 22 billion) from exports to Europe and the US last fiscal.

Lumax Industries have added on to its portfolio to sustain global business.

"When sales of existing products slowed, we expanded into new product lines to boost business", said Anmol Jain, senior executive director.

The company, which exports components to the UK, the US, Spain and Germany, estimates the share of exports to grow to 10 per cent from the current five per cent by 2017.