Ola Electric on Thursday teased five new electric motorcycles that the SoftBank-backed company is working on, announcing the range after selling electric scooters.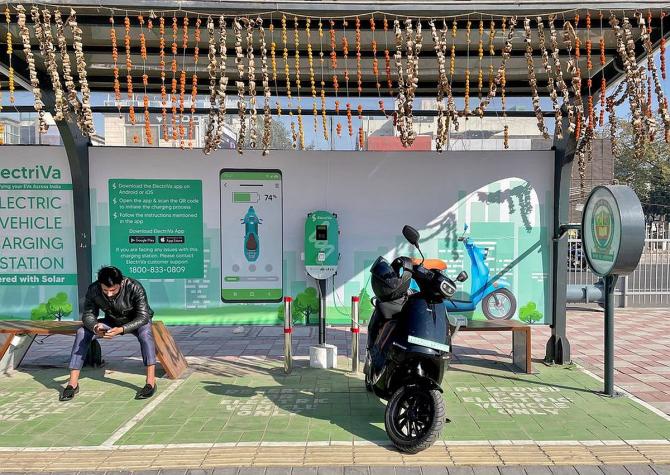 The products are labelled cafe racer, an adventure tourer, a scrambler and a naked motorcycle.
The motorcycles are expected to be launched next year and would include premium and mass-market versions, said sources.
Ola Electric said last August it plans to launch an electric sports car in 2024.
That will put the company in competition with India's Tata group and Mahindra & Mahindra and global giants Tesla and Hyundai.
The company expanded its scooter range: the Ola S1 portfolio and launched Ola S1 Air. Ola's S1 portfolio gets a new 2kWh battery pack variant.
The Ola S1 Air too has been announced in 3 new variants, powered by 2KWh, 3KWh and 4KWh battery packs respectively.
"The uptick in EVs has been quick once world-class alternatives to ICE (internal combustion engine) vehicles were made available for the Indian customers.
"With the dominance of Ola S1 and Ola S1 Pro in the premium scooter segment, India is already one of the biggest EV markets in the world," said Bhavish Aggarwal, Ola's founder and chief executive officer.
Ola said the success of the S1 Pro and S1 have cemented its market leadership.
The firm went past the 25,000 unit-sales mark in January, while clocking its best month-ever monthly performance.
Ola's new S1 variant is powered by a 2kWh battery, 8.5 kW motor, and packs in better acceleration and performance.
Priced at Rs 99,999, the scooter offers an IDC (Indian driving conditions) range of 91 kms and a top speed of 90 kms/hour.
It will be available in 11 colour palettes.
The Ola S1 Air starts at Rs 84,999 for the entry-level variant (2Kwh), Rs 99,999 for the mid-variant (3 kwh) and Rs 109,999 for the top variant (4 Kwh).
Customers who reserved the 2.5 kWh variant of S1 Air during the Diwali window will be upgraded to the 3Kwh variant for no additional cost.