Prices of two-wheelers, passenger and commercial vehicles are set to rise 15-25%
Illustration: Uttam Ghosh/Rediff.com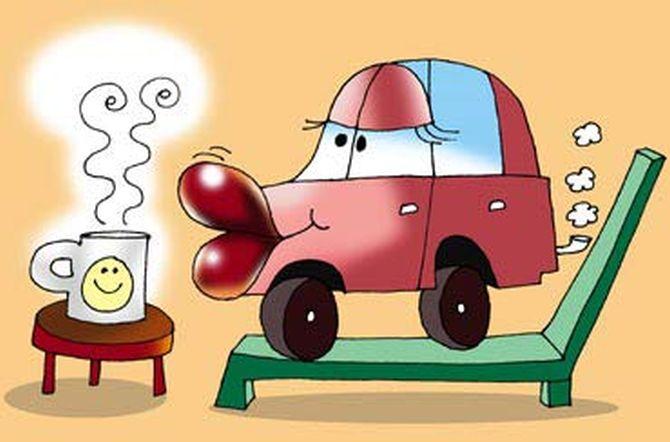 Automobile companies, which are going through a rough phase, have said the second half of the ongoing financial year could see better business.
According to them, slowing sales are likely to get a boost by a good festive season on the back of a favourable monsoon and also from pre-buying ahead of the switch (from April 2020) to the stricter Bharat Stage-VI (from the present BS-IV) emission norms.
The latter has been a visible trend in the past two quarters, too.
Prices of two-wheelers, passenger and commercial vehicles are set to rise 15-25 per cent.
This will happen as firms pass additional cost incurred in leaping to new emission and safety norms.
Sales in India, one of the fastest-growing auto markets globally, have been on a slow lane. Rising cost of ownership, a volatile stock market, tighter liquidity and distress in rural India have led to deferring of purchase.
It was a muted FY19, with a weak start to FY20 - sales across firms, barring few, fell by up to 27 per cent.
Rajan Wadhera, president of Society of Indian Automobile Manufacturers, said: "After healthy growth in all segments between FY17 and FY19, we saw a slowdown in GDP and IIP growth in the second half as compared to the first half.
"The Kerala floods, political uncertainty, weak consumer sentiment, change in regulations, increase in insurance costs, price rise, spike in fuel prices and reduced credit availability have disturbed the rhythm of India's auto growth trend.
"The events in sectors like aviation and IT have also led to consumers putting off their decisions relating to discretionary purchases."
"There is definitely stress in the industry and a lot of manufacturers have taken a conscious call of not pushing the metal beyond a point," said a top official of a carmaker.
The past four to six months, he conceded, had seen a "build-up in sales channels".
If there is a gap between wholesale and retail dispatches, this cannot sustain beyond four months.
"My estimate is that the industry, even on the retail side, must have gone down by double-digits, a cause of concern," he said.
Among his reasons were deferring of purchase, less working days and overall weak sentiment.
Rakesh Batra, partner at consultants EY India, said there was more to the slowdown.
"The bigger issue is that the economy is also slowing down. There is rural distress and no jobs, neither white-collar nor for those in rural India. It is a deeper slowdown," he said.
To align with demand, two-wheeler leader Hero MotoCorp has cut output. Sanjay Bhan, head of sales and after-sales at Hero, said: "We don't see the situation to last beyond four months.
"There are some traces of recovery but a broad-based recovery will happen only in the second half."
Kavan Mukhtyar, partner and leader, automotive, PWC, said: "Expect the last quarter to be strong, as firms are likely to dole out attractive schemes to get rid of the BS-IV stock.
"Things are expected to slow down in 2021. Without doubt, the next two years are going to be choppy."
According to officials, with the market's fundamentals remaining strong, they are unlikely to revisit or rethink investment and expansion; plans remain on track.
"These decisions are well-thought through, based on a long-term view, and aren't changed on the basis of blips," said Bhan.