The new obsession on cost control is powered by the company's 'GEAR' (Generate idea, evaluate, action and realise the idea) programme.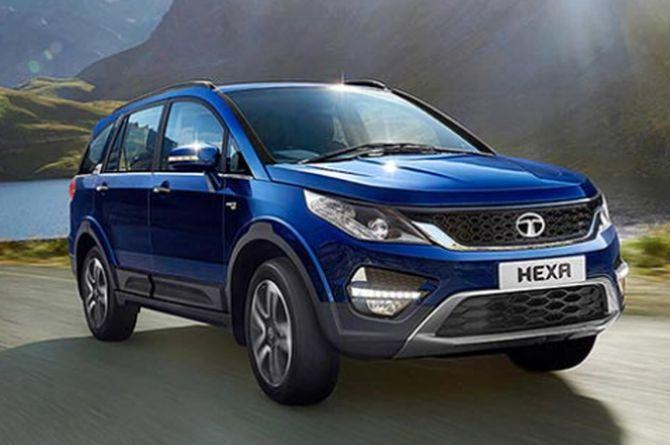 Mayank Pareek, president of the passenger vehicle (PV) business at Tata Motors, says he's glad to keep his team in a permanent state of paranoia.
An obsession for cost control has helped the maker of the Hexa sports utility vehicle and Tiago hatchback turn on its head, with a steady climb in sales over the past 18 months. From where it plans to start making money.
This new obsession on cost control is powered by the company's 'GEAR' (Generate idea, evaluate, action and realise the idea) programme.
Implemented for the PV business at the start of the ongoing financial year, as part of the a second phase of a turnaround strategy scripted by Guenter Butschek, the managing director.
The turnaround has helped the company get back in the reckoning in the PV market.
However, it is still to get back to where it was five years earlier, when Tata Motors sold 314,000 units a year and had a market share of 11.8 per cent. The clock, therefore, is ticking fast for Pareek and his team.
"We are still at 6.6 per cent market share and the road ahead is long and winding. The cost-cutting target taken this year is six times more than whatever we had done in the past.
"Earlier, the time taken to travel from G to R (generating an idea to realising it) was a year; I have squeezed it to three months. We need to do this for three years.
"After that, we become structurally strong and less vulnerable to external headwinds; it also then becomes a habit," said Pareek.
He was brought from Maruti Suzuki India, by Cyrus P Mistry, then chairman of Tata Sons, to head the PV business in October 2014.
Butschek's turnaround plan for 2018-19 is based on the principles of 'win decisively' in commercial vehicles, 'win sustainably' in passenger vehicles and to embed a culture of turnaround deep into the organisation.
Having drastically pared its losses at the operating earnings level (earnings before interest, taxes, depreciation and amortisation or Ebitda) to Rs 25 crore in the latest, June, quarter from Rs 460 crore in the year-ago period, Tata Motors is expecting operational break-even in its PV business in FY19.
If so, it would be for the first time in a decade, on the back of expanding volumes and cost-cutting programmes.
Even as Pareek has kept his team busy with targets on sales, costs and margins, Dinesh Bhasin, vice-president for customer care at the PV business, has been working behind the scenes to win back the trust of Tata passenger vehicle owners.
In a departure from the past, when the company's perceived apathy towards after-sales service had irked owners, Bhasin contends that Tata's PV workshops are now competent enough to resolve 80 per cent of complaints within 24 hours.
"Also, the number of complaints have reduced from 3.5 per cent earlier to 1.5 per cent now, of vehicles serviced at our workshops," he said.
He listed other recent initiatives such as the use of specifically developed digital applications that show the service history, use of bar codes for stocking of spares and, adoption of a 'six signature practise' that involves a PV dealer executive visiting a new owner on the seventh day from vehicle purchase. All these have helped.
Bhasin and his team's efforts had reflected in the JD Power Customer Service Index (CSI) rankings of 2017, where Tata Motors scored 893 points, next to Maruti Suzuki and Hyundai Motor India, which ranked first and second.
"Irrespective of whoever heads customer service in the company, the robust processes and systems will ensure that service remains top-notch notch," said Bhasin, who retires next month after seven years at Tata Motors.
"While all the recent initiatives are laudable, consistency in margins is important," said an analyst at a domestic brokerage. The firm's ability to pass on costs and command a pricing power will be a key driver of profitability.
Analyst said Tata Motors needed to streamline capacities. "Presently, it makes PVs at four locations - Sanand in Ahmedabad, Pimpri and Ranjangaon near Pune, and Pantnagar in Haridwar. Multi locational facilities weighs on your costs," he said.
Pareek is not unmindful. Consistent sales performance of the Tiago and Tigor have made the Sanand plant reach optimal capacity.
"The challenge is in Pune," he concedes, adding that the Harrier (the firm's SUV that will go on sale in January) will take care of that.
He said consistent sales performance had also given the much-needed pricing power.
In the first week of April, Tata Motors took a price rise of 3.5 per cent in its PV line-up, the single largest by the company in five years.
It is also pinning its hope of winning sustainably in the PV market on a strong pipeline of 10 to 12 new SUVs, hatchbacks and sedans that it plans to launch over the next three to four years.
These are expected to help the company address close to 90 per cent of the market, up from 50 per cent now.
The modular nature of the SUV and car platforms which will underpin these models will help the company churn out new models at a faster pace and lesser cost.