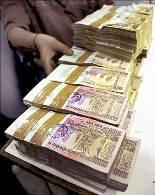 If softening deposit rates are any cue, auto and home loan borrowers can breathe easy as lending rates may come down or remain at current level for some time.
Bankers said interest rates are not going to rise soon as there is enough liquidity in the system and some lenders have even softened their deposit rates.
Usually, deposit and lending rates move up or down in tandem. "As of now, now, there is enough liquidity in the system today. So to that extent I think that there is no immediate pressure on interest rates," Punjab National Bank Chairman and Managing Director K R Kamath said.
This should be pleasing to borrowers, especially ahead of RBI's annual credit policy which is expected to tighten the monetary policy. Banks have not passed on the 25 basis points hike in policy rates by RBI last month.
The central bank raised its key short-term lending and borrowing rates by 25 basis points to 6.75 per cent and 5.75 per cent respectively.
This was the eighth time since March 2010 RBI raised key policy rates to tame inflation. Bankers, however, are keenly awaiting the RBI's annual credit policy for 2011-12 to be released on May 3.
Experts feel that RBI may again go in for rate hike of at least 25 basis points to tame inflation. Oriental Bank of Commerce Chairman and Managing Director Nagesh Pydah said, "We are waiting for the credit policy due next month. Revision in interest rates would depend the outcome of the policy review."
If RBI raises the rate again, banks would be compelled to tinker with rates, Pydah said. Echoing view, Corporation Bank Chairman and Managing Director Ramanath Pradeep said, "Any revision in either deposit or lending rate will happen only after the RBI's policy...right now we don't find any need to."
Some of the banks like Central Bank of India, UCO Bank had reduced their fixed deposit rates by up to 100 basis points on select maturities earlier this month.