As the FAME II deadline of March 31, 2024, nears, EV manufacturers are worried about their investments and future plans.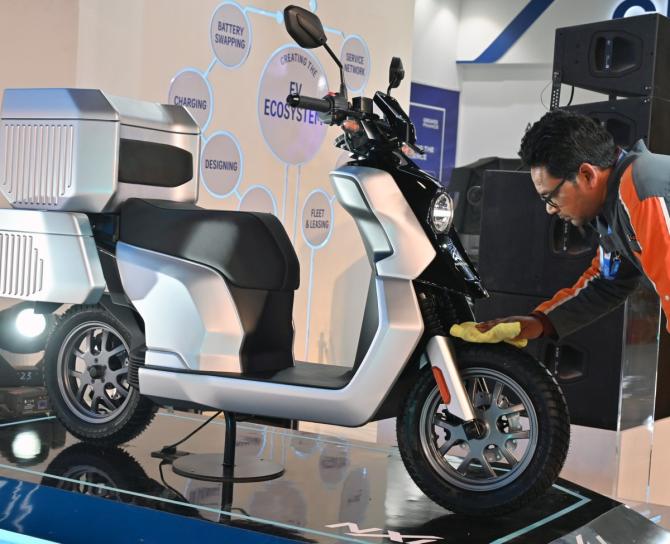 India's electric vehicle (EV) industry touched the milestone of one million unit sales in calendar year (CY) 2022, accounting for 4.7 per cent of the overall automobile sales.
That is a fraction of EV sales in China -- the largest EV market -- where over 7 million electric vehicles were sold in 2022, over 25 per cent of the total auto sales.
Nevertheless, India's EV growth looks impressive when compared with what it was in 2020, when EVs were just 0.6 per cent of the 18 million vehicles sold.
That growth, experts believe, was largely driven by the government's Faster Adoption and Manufacturing of (Hybrid &) Electric Vehicles (FAME I & II) incentives.
Now, as the FAME II deadline of March 31, 2024, nears, EV manufacturers are worried about their investments and future plans.
Accordingly, the EV industry has sought extension of subsidies under FAME-II in the Budget.
In its pre-Budget submission to the government, the Society of Manufacturers of Electric Vehicles (SMEV) said, "The validity of FAME II is set to expire on March 31, 2024. We believe FAME's validity needs to be extended since we are yet to meet the expected penetration."
If the government does not extend the subsidy, which was increased significantly under the FAME II scheme, the cost of EVs would increase substantially.
It will also lead to many start-ups that have been operating on low budgets to close operations, which would, an SMEV spokesperson said, halt the nation's efforts towards clean mobility.
The EV sector has more than 300 players, over 80 per cent of them are start-ups, many of whom entered the sector because of the FAME incentives.
If the FAME subsidy stops, the big players with deep pockets would sail through but the small players would sink.
Indeed, the industry is increasingly being divided along these lines over FAME.
Ola, one of the market leaders, feels that its cost structures are sound so the company will not face a challenge if the FAME subsidy stops.
"The withdrawal of the FAME subsidy would not specifically hurt us, but it might affect people who assemble products and don't do things fully in-house," said Anshul Khandelwal, chief marketing and revenue officer, Ola Electric.
Smaller start-ups are worried about the capital investment being stuck if the government stops subsidies.
Nitin Kapoor, managing director, Saera Electric, which makes e-rickshaws and e-scooters, feels that withdrawing the subsidy would not only raise the cost of ownership of EVs but also discourage buyers to shift from internal combustion engine (ICE) to EV.
"The move will lead to customers moving from lithium batteries to lead acid batteries," he said.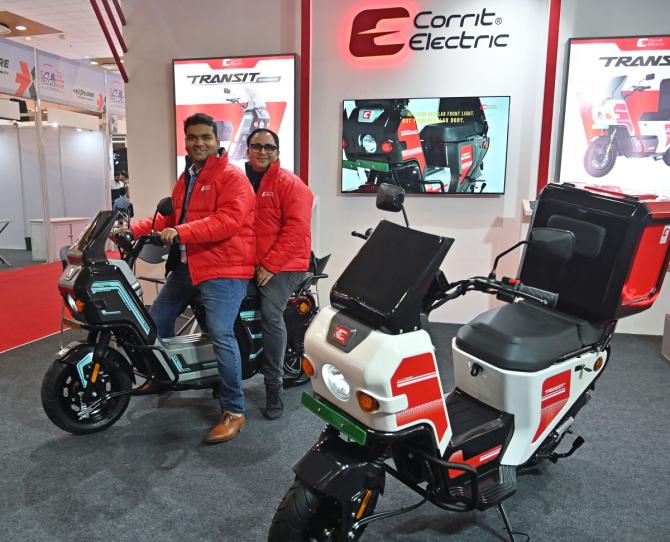 Meanwhile, SMEV claims the department of heavy industries has blocked subsidy disbursement of over Rs 1,100 crore under FAME II to electric two-wheeler companies -- most of them start-ups -- on the pretext that many manufacturers were violating the 51 per cent localisation norms and window-dressing their numbers to claim the FAME subsidy.
Overall, however, the government's own fiscal constraints are likely to determine the fate of FAME rather than the plight of start-ups.
An official in the ministry of heavy industries said, "There is little chance that the ministry will announce an extension of the subsidy for two-wheelers and passenger vehicles. However, commercial and transportation vehicles are likely to get a lease of life."
Government data shows that under FAME I, about 2,78,000 pure EVs were supported with total demand incentives of Rs 343 crore.
FAME II started in April 2019 with an outlay of Rs 10,000 crore for a three-year period, but then was extended to March 2024.
FAME II upped the stakes: electric two-wheelers get a subsidy incentive of Rs 15,000/Kilowatt hours (KWh) and electric three- and four-wheelers -- that is, rickshaws, passenger cars and buses -- get an incentive of Rs 10,000 and Rs 20,000/KWh, respectively.
Under FAME II, 745,713 EVs had been supported till December 7, 2022, by way of demand incentive amounting to about Rs 3,200 crore.
On an average, every high-speed electric two-wheeler runs on a battery of 3 KWh and above.
A four-wheeler has a 30 KWh battery. This means that every electric two-wheeler gets a subsidy of around Rs 45,000 and an electric four-wheeler gets a subsidy of around Rs 300,000.
This is roughly the additional costs consumers will have to pay if the subsidy ends.
Given that EVs are currently 30-40 per cent costlier than their ICE engine counterparts, costs could go up by 80 per cent, experts said, once the subsidy is withdrawn.
The larger question is whether an entire industry segment should depend on subsidies indefinitely rather than seeking to be competitive on its own steam.
Puneet Gupta, director, S&P global mobility, feels that the subsidy has helped the EV industry grow but to some extent it has served its purpose.
"It will hardly impact the EV sectors as there are other schemes like production-linked incentive Scheme (PLI), GST concession and road tax rebate, which could support the industry."


FAST FORWARD
Under FAME I, about 278,000 pure EVs were supported with total demand incentives of Rs 343 crore
FAME II started on April 2019 with an outlay of Rs 10,000 crore for a three-year period, extended to March 2024
E2Ws get a subsidy incentive of Rs 15,000/Kilowatt hours (kWh) and E3W/E4W get an incentive of Rs 10,000 and Rs 20,000/kWh respectively
Under FAME II, 745,713 EVs had been supported till December 7, 2022, by way of demand incentives amounting to about Rs 3,200 crore
On an average every high-speed E2W has a battery of 3 kWh and above. A four-wheeler has a 30 kWh battery. This means that every E2W gets a subsidy of around Rs 45,000 and an E4W around Rs 300,000
EVs are currently 30-40% costlier than their ICE engine counterparts, so costs could go up by 80% once the subsidy is withdrawn
Feature Presentation: Rajesh Alva/Rediff.com