The strength of the plug-in hybrid lies, among other factors, in the perfect synchronisation of electric motor and combustion engine, which makes itself apparent in maximum efficiency and dynamics on the road.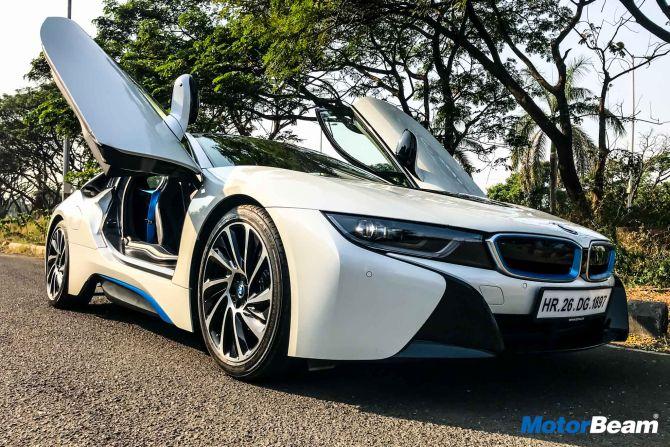 BMW launched the i8 in the Indian market in early 2015 and this is a sports car unlike any.
Of course, like a sports car, it sits low and goes fast too. 0-100 km/hr comes in just 4.4 seconds! So what is it that makes the i8 a sports car unlike any?
Starting off with the exterior, the design is very much futuristic.
There are flowing lines and sharp design elements.
Traditional of every Bimmer, you get the kidney grille up front flanked by sharper looking headlights with LED DRLs.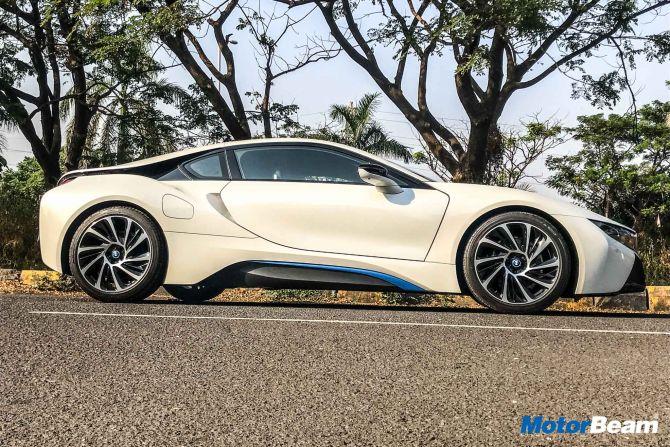 The side profile is where most of the drama is. You get these razor 20-inch alloy wheels and scissor doors which will turn heads instantly.
The rear has a busy and love it or hate it design and looks very much like in-your-face.
There are blue accents all around the car, hinting that this an electric car.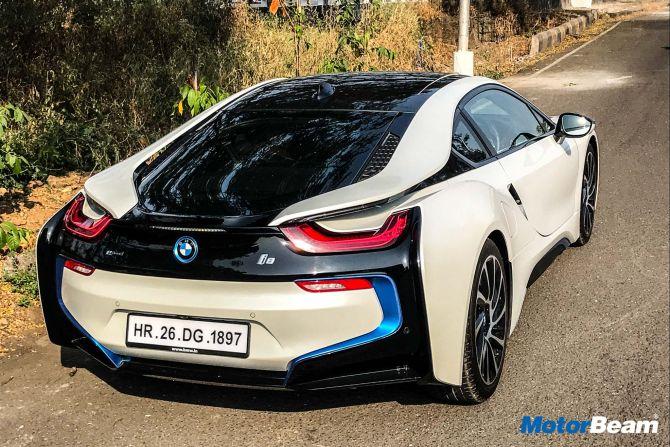 Interiors are typical BMW. However, you get an 8.6-inch fully digital instrument cluster and a 10.2-inch screen for the iDrive infotainment system.
The infotainment system is paired with an 11-speaker Harmon Kardon audio system.
The dashboard has an asymmetrical layout and some quirky bits. For instance, there's only one (big) AC vent above the centre console and two vents for the front passenger.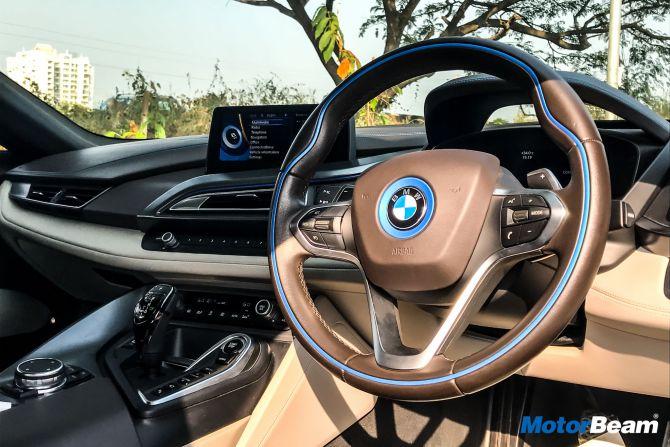 The steering wheel is nice and chunky and feels good to hold. Ingress and egress are tricky and takes time getting used to.
However, the front seats are supremely comfortable with good under-thigh support as well.
The rear seats are best suited for kids as space is less. Quality of materials used inside the cabin is equivalent to other BMWs.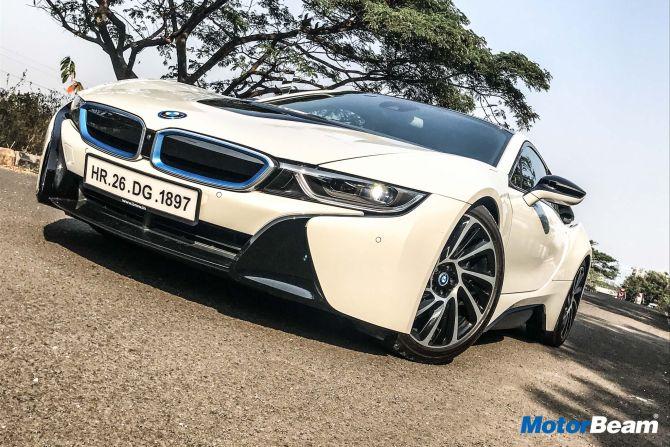 You get 154-litres of boot space and other features include Park Distance Control for front and rear, heads-up display, Driving Assistant Package, 4-side top view and side-view cameras with object recognition.
The BMW i8 is a hybrid car and is powered by a 1.5-litre petrol motor mated to an electric motor.
The petrol motor itself is capable of producing 228 HP of power and 320 Nm of torque.
Factor in the electric motor and the power and torque figures jump up to 357 HP of power and 569 Nm of torque.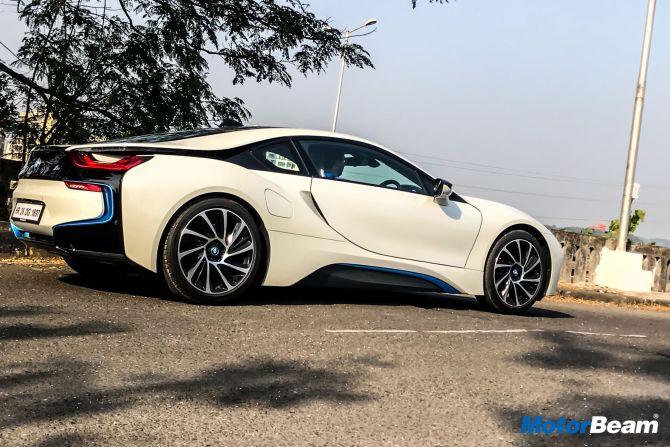 You get four driving modes - Comfort, Eco, Sport and e-Drive. e-Drive mode lets you drive the car in pure electric mode and on one full charge BMW claims the car can do a limited range of 36 kms only.
Shift to the Sport mode and responses are instantaneous. Not just that, the instrument cluster also turns red and tachometer is now visible.
Paired with a 6-speed automatic transmission, the i8 propels from 0-100 km/hr in just 4.4 seconds which is quite quick.
On paper, these figures might actually blow you, but no matter how hard you rev the car, you don't actually get the feeling of going fast that you would generally get in a regular sports car.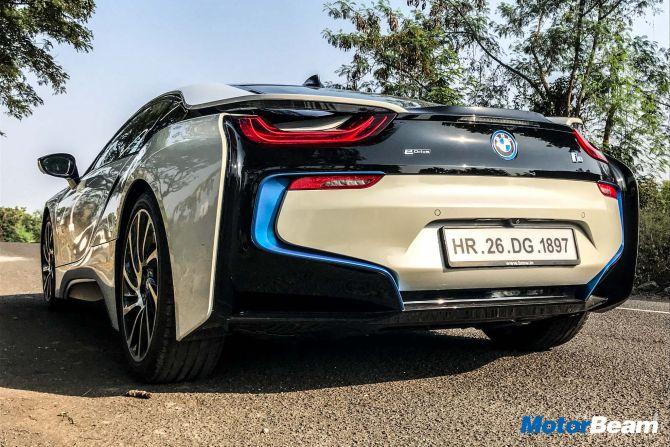 The powertrain and the transmission work well together, the gearbox is good and shifts cogs smoothly.
The sports car has a standard 30-litre fuel-tank capacity and you also get the option of a larger 42-litre tank.
The car returned a fuel-efficiency of 5.7-6.2 km/l on petrol with 27.02 kWh of electric consumption after a lot of spirited driving.
True to any sports car, the BMW i8 also gets a stiff suspension setup.
Ground clearance is just 117 mm and one needs to be extra cautious on uneven speed breakers while driving.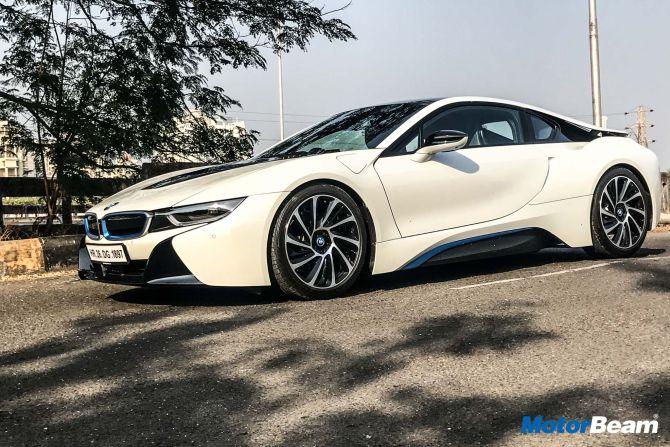 However, the vehicle has an excellent braking hardware and the tyres have tremendous levels of grip.
Steering is as precise as it can get and what makes it a driver's car is the feedback from the steering.
BMW's after-sales service network is widespread across the country and in terms of safety, the i8 gets dual front airbags, head airbags for all four seats, side airbags for the driver and front passenger, ABS with Brake Assist, Dynamic Traction Control, Dynamic Stability Control and three-point seat belts with belt stopper.
The BMW i8 might not offer the performance of a true sports car but is very much fun to drive.
If you're someone looking for a second or third sports car for your garage and want something that will stand out in the crowd and announce your arrival but in both sophisticated and a calm manner, then the BMW i8 is what you should be looking at.
Powered by