Tata Motors' UK-based subsidiary, Jaguar Land Rover or JLR, reported a muted operational performance in the December quarter of financial year 2021-22 (Q3FY22).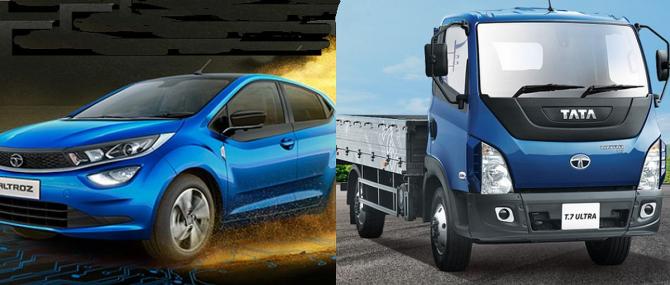 The luxury carmaker saw a 33 per cent year-on-year (YoY) decline in wholesale volumes to just under 70,000 units in Q3, against estimates that were 16 per cent higher.
The drop in despatches to dealers was on account of shortage in semiconductors.
Retail sales for the period fared even worse, with volumes falling 38 per cent over the year-ago period to just over 80,000 units.
Among key markets, the UK was the biggest underperformer as sales fell sharply both on sequential and YoY bases due to Covid-19's impact.
Lower retail sales were largely due to a 48.7 per cent fall in Jaguar.
Range Rover sales were down 34.5 per cent.
Jaguar's retail sales on an annual basis (calendar year 2021, or CY21) too were muted — volumes for the brand were down 15.8 per cent as compared to CY20.
Range Rover sales were up 3.4 per cent even as overall sales last year were down 1.2 per cent.
Though production was constrained by the global semiconductor shortage, the company indicated that there was some improvement in chip supply and wholesale volumes compared to the preceding quarter.
What gives comfort is that the overall order book has grown to over 154,000 units as against 127,000 units in Q2.
This was aided by about 30,000 orders from the previous quarter for the New Range Rover, while demand for Land Rover Defender remains strong with about 36,000 orders.
The positive for the company was an improvement in product mix with higher sales of Range Rover, Range Rover Sport, and I-Pace, which were up 34-92 per cent on a sequential basis.
Underlying demand for JLR products remains strong, says the company, and is proactively managing semiconductor supplies to maximise production of higher margin products.
While wholesale volumes were lower than brokerage estimates, analysts at Bank of America say a positive mix has saved the day on the free cash flow (FCF) front.
Motilal Oswal Research also says product mix improvement diluted the impact of the operating deleverage.
JLR expects positive FCF of 150 million pounds in Q3 as against outflow of 664 million pounds in Q2.
The improving product mix should reflect in the coming quarters as the company recently opened bookings for the all new Range Rover and Range Rover Sport.
The two fetch the highest average sales and margins and should add to growth and profitability, according to analysts at IIFL Research.
In the domestic business, the company has triggers across segments.
Volume trajectory for its passenger vehicles has been strong — the company reported a 50 per cent YoY jump in December volumes, while sales rose 44 per cent YoY in Q3.
December volumes for medium and heavy trucks were 3 per cent lower, but sales in Q3 were 15 per cent higher.
Most brokerages are positive on the trucks segment and expect volumes to be strong on the back of economic recovery and improving demand for freight.
Analysts at Prabhudas Lilladher Research are bullish on the domestic business given aggressive plans for the electric business, sports utility vehicle focus of the passenger vehicle business and new product line which will gain market share.
The commercial vehicle space will benefit from a cyclical upturn.

At the current price, the stock, which has gained 78 per cent since September, is trading at 20 times its FY24 earnings estimates.
The Q3 results are expected to be the next trigger.
Photograph: Courtesy Tata Motors