Dealers expect prices to fall further, owing to an impending rate hike in the US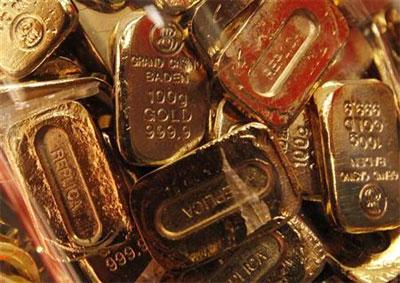 Bullion dealers in India have started restocking gold, following the commodity's prices falling to multi-year lows in both global and domestic markets. On Friday, prices slumped to $1,130 an ounce in the comex division of the New York Mercantile Exchange, before recovering marginally to $1,134.4/oz.
A low of $1,130/oz was last seen in May 2010.
Silver, too, recovered marginally to trade at $14.84 an ounce, a level last seen in 2009.
Prices of both metals fell after US Federal Reserve chief Janet Yellen affirmed tightening of that country's monetary policy at an appropriate time this year.
On Saturday, gold and silver traded at Rs 25,690/10g and Rs 34,500/kg, respectively, at Mumbai's Zaveri Bazaar. Compared to its imported cost, the discount in gold, $80-10/oz till recently, has shrunk to $2.5/oz due to low demand. Following precious metals, platinum slumped below $1,000/oz to settle at $997 on Friday, a level last seen in February 2009.
"Bullion dealers have started restocking in phases, amid expectations of a further price fall. On every landmark fall, they build 10-15 per cent inventory. Building stocks are advised until a rebound in gold prices starts," said Ketan Shroff, director, Penta Gold Pvt Ltd, a Zaveri Bazaar-based bullion dealer.
Jewellery sales have remained subdued since Akshaya Tritiya (three months ago) and, therefore, bullion dealers' stock pipelines were empty. "With gold prices falling, the demand for retail jewellery would surge," said Rajesh Mehta, managing director of Rajesh Exports, one of the largest jewellery retail chains in India.
In rupee terms, prices are turning attractive and it is expected festive demand would begin next month. As such, bullion dealers and jewellers are building inventories.
"We advise our clients to buy gold equivalent to the quantity of jewellery and bullion they sell. Also, jewellery buying in the monsoon season is very slow and prices are turning attractive for booking gold," said Bhargav Vaidya, analyst with B N Vaidya & Associates.
In fact, many believe global gold prices will fall further. With interest rates expected to rise in the US, gold and silver would lose their appeal as safe-haven bets.
"We believe gold prices will continue to drop slowly. The lack of sharp price moves in gold has kept Chinese investors away. Also, the need for a safe haven by western investors has dissipated, as the dollar has regained considerable strength. The closer we get to an interest rate hike by the US Fed, the more gold prices are expected to drop. Higher interest rates raise the opportunity cost of holding gold and our view is this will be the main driver for gold prices," said Bernard Dahdah, precious metals analyst, Natixis.
Kumar Jain, director of Umedmal Tilokchand Zaveri, estimates gold prices will fall to $1,070/oz in the coming months.
Domestic jewellers foresee a rebound in jewellery demand, following a price slump. Mehul Choksi, managing director of Gitanjali Gems, said, "Consumer demand of gold will rebound." Many jewellers have started luring customers through discounts of up to 100 per cent in making charges.
'Gold might find support from the two largest consuming countries - India and China. In India, jewellers have started restocking and in China, investors might turn to gold after losing hugely in equities," said Gnanasekar Thiagarajan, research director, Commtrendz.
Why are prices falling?
Though the Greek crisis and a fall in the Chinese market were potential reasons for gold to rise, the market ignored these because an interest rate rise in the US looks certain, which will strengthen the dollar. Also, following a nuclear deal with Iran, crude oil prices fell
The likely scenario

Prices might continue to fall
What could support prices?
Indian jewellers have started restocking gold; another major consumer, China, has announced it added 604 tonnes of gold to its reserves. Investors who burnt their fingers in the stock market crash could also shift to gold. Also, consistent low prices will force mines to cut production, lowering supply; this could support prices