Maggi sales are estimated to have been hit severely since the news of the contamination broke out 10 days ago.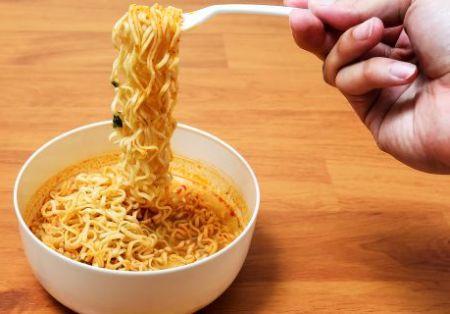 All hands are on deck at Nestle India as it grapples with possibly its biggest crisis in three decades.
Maggi, India's best known comfort food after staples such as rice, dal and wheat, has been on a downward sales spiral after the Food & Drugs Administration of Uttar Pradesh said it contained lead and mono sodium glutamate beyond the permissible limit.

Since then, three state governments -- Maharashtra, Gujarat and Karnataka -- have said they too will test samples of the product, which gives Nestle India almost 30 per cent of its revenues.
The central government has said it will look into the matter and so will the country's apex food regulator, the Food Safety & Standards Authority of India.

Maggi sales are estimated to have been hit severely since the news of the contamination broke out 10 days ago.
Some retailers say there has been a 5-10 per cent drop, while others put it to as high as 35-40 per cent.
Most of this fall has been in organised retail -- a key channel frequented by Maggi's core target group of the middle and upper-middle income consumers.
Retailers attribute this to the heightened awareness about the product's quality concerns among consumers who are on social media, watch TV and read newspapers.

A senior executive from Spencer's Retail says, "Till the 14th of this month, there was no impact on sales. But after that, we are seeing a 5 to 10 per cent drop. Maggi is important for us as 70 per cent of what we buy from Nestle is this product."
Devendra Chawla, group president (food & FMCG), Future Group, says he would have to assess the loss to business because of the issue, while executives at Reliance Retail and Aditya Birla Retail were not immediately available for comments.

"Our analysis shows that there has been an impact on brand trust as a result of this crisis.
"You have to understand that it is a government body that has come out with these findings and it's not a random allegation made by an aggrieved consumer on social media," says N Chandramouli, chief executive officer, Trust Research Advisory, a Mumbai-based company which comes out with the annual Brand Trust Report.

While an email sent to Nestle India elicited no response , people in the know say that the company is likely to launch an advertising campaign in the next few days to counter the findings of the Uttar Pradesh Food & Drugs Administration.

The campaign will use all outlets -- social media, print and TV -- to assuage consumer concerns over the product's quality.
Bollywood actor Madhuri Dixit, who already endorses Maggi's Aata Noodles, is likely to helm this campaign, in the way Amitabh Bachchan did during Cadbury's worm-in-chocolate controversy, or Aamir Khan did when Coca-Cola was hit by the pesticide-in-cola issue a decade ago.

Many say that Dixit is suited for this task since she is a wife and mother of two, and appeals to the middle class.
"What is needed is a strong rebuttal from Nestle.
"So far, it has initiated phase one of its damage control exercise by engaging with regulatory authorities to convey its viewpoint, speaking to retailers and conducting an internal probe.
"But it will have to move to the second phase since it is a perception battle at the end of the day," Amit Lohani, convener of the Forum of Indian Food Importers, says.

When the crisis first broke out, Nestle had said, "We use hydolysed groundnut protein, onion powder and wheat flour to make Maggi Noodles, which contain glutamate. We believe that the authorities' tests may have detected glutamate, which occurs naturally in many foods."
It also said that in its routine tests done over the years, it never found Maggi containing more than 0.03 ppm of lead, adding that the batch that was tested was an old one (February 2014).

Not everyone is convinced by Nestle's arguments though.
Chandra Bhushan, deputy director-general of Delhi-based Centre for Science & Environment, says, "Whether samples are of the current batch or an old batch, high levels of lead and MSG are simply not acceptable.
"Why should we have products such as these?
"It's high time stringent action was taken because packaged food consumption is on the rise in India. Authorities as well as consumers should know what is going into these food products."

While high level of lead in food is known to be harmful, MSG is a flavour enhancer commonly added to Chinese food.
To most Indians, it is known as Ajinomoto, because of the Japanese company of the same name that has been manufacturing it for over 100 years.

Bhushan of CSE says that MSG is a non-essential salt that should not be added to food at all.
However, food processing as well as catering industries have for long used MSG to enhance the flavour of food.
"If the regulatory authorities get serious, there will be so many more violations that will be detected. While the Food Safety & Standards Act is stringent, enforcement of it has been weak," Bejon Misra, a noted consumer activist, says.

INSTANT TROUBLE
India is Maggi's biggest market in the world
30 per cent of Nestle India's revenue is from Maggi
For 32 years, Maggi has dominated India's instant noodle market
Maggi has been pitched as a healthy food option