Around 200 pilots of Go First, the cash-strapped airline that suspended operations on May 2, have joined Air India.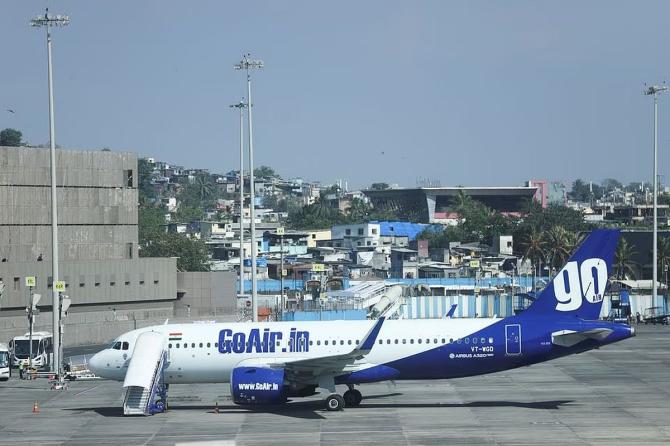 As many as 75 of them started training with the Tata-owned airline on Monday.
As Go First tries to salvage its operations, it has announced additional pay or retention allowance of Rs 100,000 and Rs 50,000 for captains and first officers, respectively, with effect from June 1.
According to sources, Go First had around 700 pilots at the time of the suspension of its operations.
The airline currently has around 500 pilots and believes they will be adequate if it resumes operations soon.
Go First's captains currently earn about Rs 5.3 lakh a month on average, according to a Reuters report, which cited data on AmbitionBox.
Air India held walk-in interviews for pilots in Bengaluru, Delhi, and Mumbai within days of Go First cancelling flights.
The airline then said it got more than 700 applications after its recruitment advertisement.
Air India and Go First didn't immediately respond to queries on the matter.
The civil aviation industry is currently facing a shortage of staff globally.
In India, IndiGo is looking to hire 5,000 staffers in FY24, while Akasa Air is looking to recruit 1,000.
Air India, on the other hand, plans to add more than 4,200 cabin crew and 900 pilots this year.
A source said that 75 former Go First pilots started classroom training on Air India's operational policies, manuals and other aspects.
They will undergo simulator training before being released for duty.
It has been learnt that the recruits submitted indemnity letters to Air India as they weren't relieved from Go First.
Both Go First and Air India operate Airbus A320-type aircraft.
Air India also operates the A319 and A321 variants.
In a bid to prevent more such exits, Kaushik Khona, Go First's chief executive officer, on Sunday announced a retention allowance for pilots.
The allowance will be paid to pilots who were on the airline's payroll as on May 31 and also to those who are willing to withdraw their resignation letters by June 15.
The airline also plans to introduce a longevity bonus for its pilots, Khona said in his letter.
On Monday, the airline also paid April salaries to cabin crew, ground staff, and engineers.
The Directorate General of Civil Aviation (DGCA) last Thursday gave Go First a month's time to submit a comprehensive revival plan with details about the availability of planes and pilots, among others.
A meeting between DGCA and Go First executives was held on Monday to assess preparedness.
Go First has 54 aircraft but has been flying only 26 of them – the others are grounded due to engine woes.
"The airline's ability to sustain and grow its operations will depend upon the number of captains and especially trainers and examiners who supervise simulator checks," a source said.