Jio's global partnerships took shape this year when Jio Platforms, a 100 per cent subsidiary of Reliance Jio which has invested in various digital platforms, was able to woo a bevy of marquee investors: Facebook, Google, Qualcomm, Intel, and a numerous PE funds.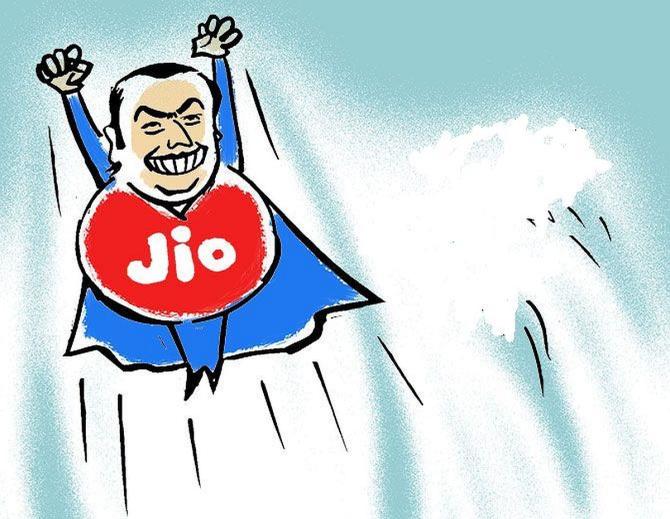 At the annual general meeting of Reliance Industries (RIL) in September 2016, Mukesh Ambani announced what looked like an overly ambitious target: India, ranked 155 in the world on mobile internet usage out of 230 countries, would rise to the coveted top ten league.
At that meeting, perhaps even Ambani had no idea of the scale of the disruption that would be unleashed by his policy of selling data at rock bottom tariffs.
Reliance Jio kicked off a new phase in the telecom industry; from being primarily voice centric, it adopted broadband on a colossal scale, catapulting India into the number one slot on mobile broadband usage.
Within four years of launching 4G LTE mobile services on September 5, 2016, the total data consumption in the country has shot up from 300 million GB a month to 6 billion GB currently.
As much as 60 per cent of the total data usage is contributed by Jio.
The same year, Ambani announced that he would be investing Rs 5,000 crore over five years in start-ups that matched Reliance's digital ambitions.
That number was crossed much sooner.
To date, the company has invested over $3.1 billion, mostly in its key areas of focus, such as healthcare, education, agriculture, the media and entertainment.
Reliance also reinforced its position in the e-healthcare space by buying out NetMeds, gaining a 30 per cent share of the e-pharmacy market.
Four years ago, Ambani had also set a target of winning 100 million mobile customers, and managed the number.
But he managed the number within 170 days by making voice and roaming free, offering data at a 90 per cent discount on the prevailing tariffs, and selling 4G LTE phones at nearly half the market price.
Now, with 392 million customers, Ambani is upping the ante.
At the last AGM in July, he told shareholders that Jio was targeting 500 million customers - that's nearly half the total subscriber base.
Many analysts say Jio made a fundamental change in its strategy by moving from going it alone to getting global and Indian partners for its digital push only in 2019.
The reason was primarily to pare his group debt of over Rs 1.6 trillion and wanting to become debt-free by March 2021, they say.
However, sources close to the group point out that the seeds of the idea of partnerships were sown at the 2016 AGM when Ambani hinted that he would create a digital platform through partnerships with global digital and internet companies.
It's just that most analysts failed to pay adequate attention to this remark.
In practical terms, these 'global partnerships' took shape this year when Jio Platforms, a 100 per cent subsidiary of Reliance Jio which has invested in various digital platforms, was able to woo a bevy of marquee investors: Facebook, Google, Qualcomm, Intel, and a numerous PE funds.
These players put in a staggering $20 billion to take a total of over a 30 per cent stake in the company. As a result, Reliance shed its debt faster than its target.
But insiders say the global partnership strategy goes much deeper than just putting in money.
For instance, with Google, Reliance is working on a low-cost 4G android smart phone.
With WhatsApp (owned by Facebook), Reliance Retail is trying, through its e-commerce foray, to make it simpler for customers and kirana stores to order and deliver goods.
Not everyone buys this interpretation.
The managing director of a leading PE firm says that Facebook won't be putting in billions of dollars so that Jio Mart uses WhatsApp, which is also a non-exclusive arrangement.
"The deal is all about Facebook wanting a piece of the Indian digital action and not losing out as they have in China.
"And Jio needs the money of marquee investors for valuation as it plans to list," he said.
Telecom analyst Mahesh Uppal believes another area that Reliance has yet to crack is getting premium, high ARPU customers, who are still with Bharti Airtel and Vodafone Idea, into its fold.
The Jio juggernaut has had serious consequences for the industry.
While the price war that Reliance Jio unleashed along with its 4G technology was good for consumers, it was a disaster for the industry.
The number of mobile players shrank by more than half from 11 players in September 2016 to a mere four now.
Of these four, it is still not clear if Vodafone Idea will survive.
Also, the price war saw ARPUs drop by nearly half within two years from Rs 125 in Q2 FY16 to Rs 73 in Q3 FY18.
Finally, the industry debt skyrocketed as incumbent operators tried to match prices while investing to upgrade their networks to 4G quickly.
Debt nearly doubled from Rs 3.8 trillion in FY16 to Rs 7.5 trillion in FY20.
And while Jio had made data king and voice free, realisation fell dramatically even while usage soared.
Data realisation in paisa per MB fell from 18 when Jio started services to less than a paisa currently.
The mayhem has quietened down and telcos are now looking at doubling their ARPUs in quick time through tariff hikes soon though the recent Supreme Court judgment that the AGR dues have to be paid within 10 years, instead of 15, has meant uncertainty for Vodafone Idea.
If what emerges is a duopoly of Reliance Jio and Bharti Airtel, it will be welcomed by Jio as it will be able to reach its target subscriber number much faster than the four to six quarters it had envisaged earlier.