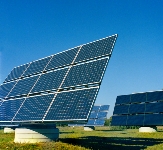 Talks with FIs, state governments on for 1,000-Mw capacity; may also float subsidiary for solar EPC.

After a small presence in the biomass energy sector, Areva, the French energy major, is betting big on solar power in India.
It plans to float two subsidiaries for channelising investment to the tune of $3 billion (Rs 13,300 crore) in solar power generation.

Areva has 60-Mw of biomass-based power capacity in India. It is looking to also tap the market for nuclear power in a big way.

The company is in talks with two financial institutions for floating a joint venture to put up 1,000 Mw of solar thermal power capacity over the next five to seven years.

The projects, coming up outside the National Solar Mission programme, will be developed under power purchase agreements with state governments.

The moment we get credible PPAs, we will form the joint venture; we will not wait for the full 1,000 Mw capacity to be signed, Anil Srivastava, chief executive officer, Areva Renewables, told Business Standard.
He did not divulge the names of the financial institutions but said the announcement of a tie-up would come after six months.

EPC with partner

Areva is also planning to set up a fully-owned company for doing engineering and construction work to build solar islands (artificial membranes for the placing of solar panels) and turbines.

We want to form an EPC (engineering, procurement, construction) company that would work with an Indian partner. While we will do the solar island and turbine, they will do the balance of plant and civil work.

Our objective is to go to the market and offer the customers a fixed price turnkey for building the power plant and for operation and maintenance, he said.

The setting up of a EPC company would help Areva build a supply chain and enable it to export parts to Australia and West Asia.

The French energy major started renewable activities in 2006 and has presence in four major segments globally  wind, solar, bioenergy and hydrogen power, and energy storage.

The company, which has also bid for projects under the solar mission in a tie-up with nine companies, plans to put up 250 Mw capacity at four locations. For this, it is in talks with the governments of Gujarat, Rajasthan, Madhya Pradesh and Maharashtra.

Going by our understanding of the solar mission, we would be probably investing $25 million (Rs 110 crore) at the least but we are not only dependent on this.

We are working with other large developers who want to build their own solar plants, with state governments, he added.

At an estimated requirement of $3 million (Rs 13.4 crore) per Mw, the investment requirement for four 250 Mw units would be roughly $3 bn.

On the cost economics of taking up projects outside the mission, Srivastava said the Central Electricity Regulatory Commissions rate of Rs 15.3 a unit is absolutely doable.

Today, we can localise up to 60 per cent of the plant, with 10-12 per cent unleveraged returns. We can go right up to 80 per cent localisation in a short span of time, he said.