The Nifty can slip to 7,500 and faces a strong resistance at 8,350 levels on the upside, analysts say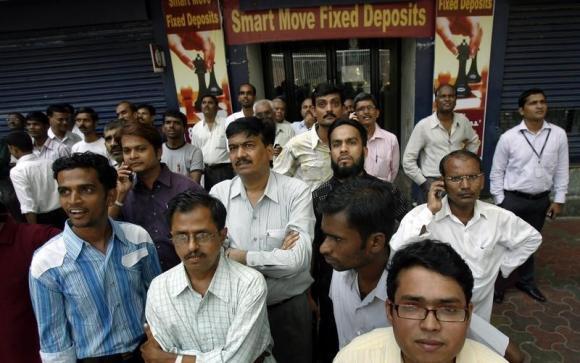 Markets have been volatile in May. Despite the huge 723-point fall on May 6 and another 630-point plunge in the S&P BSE Sensex on May 12, the intermittent recovery has also been quite sharp.
While the bears pulled down the 30-share benchmark by around 1,821 points during May, the index managed to recover nearly 1,761 points in trade till 920am on May 14. Simply put, the S&P BSE Sensex has merely lost 60 points, or is 0.2% lower from its close on April 30.
Given the tussle between bulls and bears in May, India VIX, a gauge of volatility has shot up from a level of around 12 in April-mid to over 21.43 levels in intra-day trade on Wednesday, translating into a jump of nearly 79%.
VIX has a negative co-relation with the Nifty. Every time VIX rises, it means that a market fall is imminent.
So why this sudden volatility?
Analysts attribute this volatility and the fall in markets to selling by foreign portfolio investors/foreign institutional investors in the index-based long positions and expect this to continue for some more time.
By buying options, they get the benefit of deploying lesser funds for an exposure in the market, they add.
Explains Siddarth Bhamre, head of research (equity derivatives and technical) at Angel Broking: "There is some more volatility left in this market.
FPIs/FIIs have been squaring off their index-based long positions and are shifting into index options.
As a result, the implied volatility (IV) is rising.
Thus despite the minimal fall seen over the trading days in May, the IV has moved up from around 12% to around 22%.
The open interest has also reduced. At the same time, the FIIs have also been selling in the cash market."
Will the market rally sustain?
"FII selling has also been also on account of global factors.
Till last year, India was among the most preferred destination given the promise of reforms, pick up in corporate earnings and the low oil prices.
However, oil prices have shot up since then and there are other markets that are looking attractive now.
Besides, there are fears of the US Federal Reserve hiking rates and a delay in the government's reform agenda and disappointment related to corporate earnings growth," he adds.
Analysts expect the markets to remain range-bound over the next couple of quarters though they may be close to forming a bottom in the near-term.
Bhamre of Angel Broking feels that the Nifty can drop to 7,500 levels going ahead and the corresponding level for the Sensex could be around 25,000.
"We are not in a hurry to make new all-time highs. There are chances that the Nifty can spend the next one year between 7,500 to 9,000 levels," he says.
Chandan Taparia, derivatives analyst - equity research at Anand Rathi, however, feels that the Nifty should find support at 8,000 levels even though the upside remains capped.
"We expect the markets to bottom out soon and volatility to cool down.
Despite the sell-off, the Nifty has been able to find some support at 8,000 to 8,080 levels and there has been support -- based buying in a number of stocks, including banking and capital goods counters.
There has been buying at lower levels in a lot of stocks.
In case the Nifty breaks 8,000 on the downside, it can slip to 7,850.
However, a sharp recovery from those levels is not ruled out. On the upside, it has been facing resistance at 8,340 levels.
Only if it sustains and closes above 8,340 levels we can hope for some recovery in the markets," he says.
Image: Investors look at a large screen displaying Sensex on the facade of the Bombay Stock Exchange building in Mumbai. Photograph: Punit Paranjpe/Reuters