Says Make in India could only succeed with Make in UP, given large sized population and market the state offers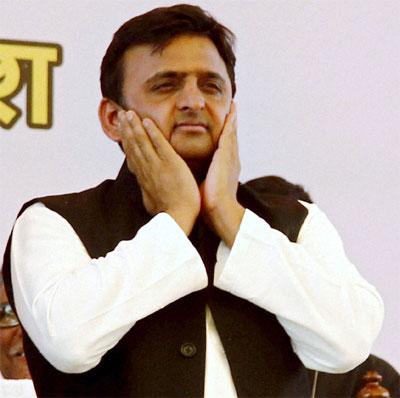 Uttar Pradesh Chief Minister Akhilesh Yadav on Friday pitched 'Make in UP' against the 'Make in India' theme espoused by Prime Minister Narendra Modi.
Yadav noted Make in India could succeed only with Make in UP, given the large sized population and market the state offers to companies.
Addressing a function at his official residence here, he lamented while big companies had their commercial and industrial establishments in Noida, their business cards do not mention UP, but refer to NCR-Delhi as their location.
Over the last year, Yadav has assiduously built a reputation of juxtaposing his ideas about industrial and social development vis-à-vis those propounded by Modi. The state government counters 'Make in India' with 'Make in UP' and also has 'Green UP, Clean UP' theme to counter 'Swachh Bharat Abhiyan' of the Centre.
Post 2014 Lok Sabha defeat, when the ruling Samajwadi Party could win only five seats out of 80 parliamentary constituencies in UP against the Bharatiya Janata Party (BJP) and its ally Apna Dal's (2 seats) total tally of 73, Yadav has not become vocal attacking the Modi government.
He has not only top geared the flagship projects with eyes on the 2017 assembly polls, but is keen on high octane publicity through various mass mediums.
Meanwhile, Yadav issued Letters of Comfort (LoC) to 9 mega projects in UP entailing total investment of almost Rs 9,000 crore (Rs 90 billion) and combined job avenues of 21,175. LoC is a document supporting the solicitation of loan by a company and in effect seeks to fast track the project.
These green field, brown field and extension projects belong to Samsung India, Reliance Cement, Indo Gulf Fertlisers etc.
These projects have also been provided total incentives of over Rs 4,700 crore (Rs 47 billion) under the new Infrastructure and Industrial Investment Policy 2012. Interestingly, the total incentives provided to these 9 projects account for almost 53 per cent of their combined proposed investment of Rs 9,000 crore.
The largest investment of Rs 3,841 crore (Rs 38.41 billion) is planned by Indo Gulf Fertilisers at its proposed brown field project in Jagdishpur (Sultanpur district). It has been provided with incentives worth Rs 885 crore (Rs 8.85 billion).
Soon after coming to power in March 2012, the incumbent Akhilesh Yadav regime had unveiled the new policy replacing the erstwhile policy framed in 2004.
Under the new policy, the state government has so far attracted investment of about Rs 20,000 crore (Rs 200 billion) in different large and medium sized projects, UP infrastructure and industrial development principal secretary Mahesh Kumar Gupta said in his address.
Photograph: PTI