Vodafone and Bharti have pointed out that, for data, their revenue realisation should be at Rs 30-35 per GB for them to cover their costs as opposed to the current figure of over Rs 11 per GB.
But Jio has suggested a gradual increase to Rs 15 per GB and then maybe to Rs 20 per GB after six to nine months.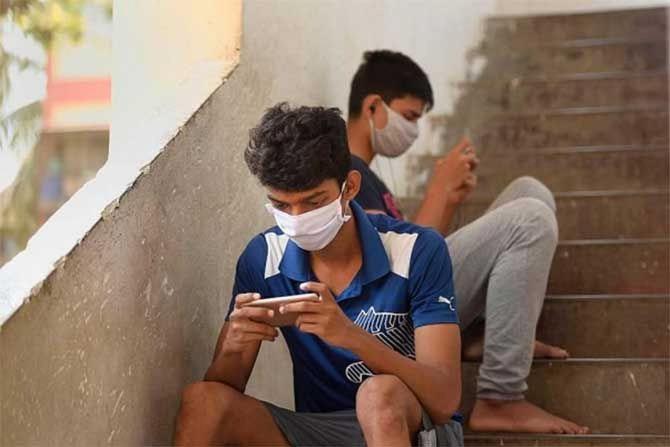 The chorus for a tariff hike from incumbents is getting louder.
In August, Bharti Airtel chairman Sunil Mittal declared firmly that mobile tariffs have to go up for the industry to be sustainable.
Backing him up was Vodafone Idea chairman Kumar Mangalam Birla who called tariffs, despite last December's 40-50 per cent increase, were very low and said raising them was vital for growth.
But Reliance Jio is sitting tight or at least is in no mood to oblige.
Instead, a few days ago, it unleashed a price war in the post-paid mobile space, an area where it has less than one per cent share of the market.
The company launched new tariff plans with more data bundled with OTT platforms like Netflix that were priced 20 per cent lower than Bharti Airtel's entry level plans and offering twice the data of Vodafone Idea for the same price.
Those close to the company say it has not taken any call on a hike on the pre-paid tariff space too - nothing immediate is on the cards.
Reliance Jio's focus now is reaching Mukesh Ambani's target of 500 million customers from the current 397 million.
A Reliance Jio spokesperson declined to comment.
Those in the know say there could only be two factors that could compel Jio to fall in line over a tariff hike.
One is if the government nudges it to do so, to ensure the survival of a three-operator private mobile play.
Some telcos are already lobbying with the government for that.
Even in 2018, the government had tried to dissuade incumbent operators and Jio against a price war.
Former finance minister Arun Jaitley had publicly acknowledged the adverse consequences of hyper competition. Yet the nudge went unheeded.
The second factor is the possibility of Telecom Regulatory Authority of India (Trai) - under the new leadership of P D Vaghela - revisiting the proposal to fix a floor price of tariffs.
This proposal by Bharti and Vodafone sets limits for Jio.
However, former Trai chairman R S Sharma failed to take this decision, apparently for fear it would work against consumer interests.
For Bharti and Vodafone, a tariff hike which would increase ARPUs is key to their survival.
For instance, according to Axis Capital, Vodafone would need a steep increase of 85 per cent in its ARPU by FY 23 to continue as a going concern and of at least 35 per cent in FY 21.
Last December, Mittal in a discussion with Goldman Sachs, had talked about hitting an ARPU of Rs 200 in a few quarters.
In August he repeated the same goal, saying he expected to achieve this in another six months and would like to see it rise to Rs 300 over time.
But can incumbent operators increase tariffs on their own and put pressure on Jio?
They can but, as Vodafone has pointed out, this does not resolve the problem until there is a floor price.
So, while all operators (including Jio) increased prices last December, Jio's overall tariffs were still around 25 per cent lower than those of Bharti and Vodafone.
Vodafone has told Trai that, owing to this yawning gap in tariffs, the underlying issue of its ability to raise tariffs unilaterally remains.
If the tariff gap remains as Reliance Jio has publicly stated it will, any increase by Bharti and Vodafone - even accompanied by a proportionate increase by Jio - fails to resolve the matter.
For example, Vodafone said that last year's tariff increase translated into only an 8 per cent increase in revenues which is not enough to address its financial problems.
Only a floor price, it argues, can resolve the issue of Reliance Jio selling below cost price.
Reliance Jio's strategy is simple. It wants to gain another 100 million additional customers to reach its target and as quickly as it can.
However, its monthly net ads which hit 12-14 million a month and then averaged at 7-8 million, have now slowed down to 3-5 million (in June it was up 4.4 million), especially after it stopped promoting its feature phone options which constituted 30 per cent of the net ads.
Despite Reliance Jio's relentless onslaught, Bharti has been able to retain its subscriber market share.
The bulk of any new subscribers for Reliance Jio, therefore, would come from grabbing Vodafone customers and a steep tariff increase at this moment would slow down the process of net ads and reaching the ambitious target.
Those in the know say Jio has put together a multipronged strategy to acquire new customers.
The first aspect is to go for Vodafone's 23 million price-conscious, post-paid customers and for enterprise customers.
The post-paid market has been shrinking but it still accounts for 15 per cent of the sector's revenues and 5 per cent of subscribers.
However, a company like Vodafone which has over 43 per cent share of this market will surely want to protect subscribers who have large ARPUs.
The second aspect of Reliance Jio's strategy is to tap pre-paid customers in circles which Vodafone will not focus on.
Vodafone recently announced that it will focus on 16 circles which constitute 95 per cent of its revenue.
Yet these circles account for 15 per cent (177 million customers) of the country's total subscriber base who could be looking for alternatives.
Finally, Reliance Jio will use its planned introduction of low-priced Android Google mobile smart phones to persuade the large 2G customer base (who constitute about 60 per cent of Vodafone subscribers) to upgrade to Reliance 4G.
The difference in their respective pricing approach is clearly reflected in their presentations to Trai on the consultation paper on a floor tariff.
Vodafone and Bharti have pointed out that, for data, their revenue realisation should be at Rs 30-35 per GB for them to cover their costs as opposed to the current figure of over Rs 11 per GB.
But Jio has suggested a gradual increase to Rs 15 per GB and then maybe to Rs 20 per GB after six to nine months.
Its argument is that an abrupt data tariff increase will drive down usage and the revenue increase would not be to the desired levels.
Photograph: PTI Photo