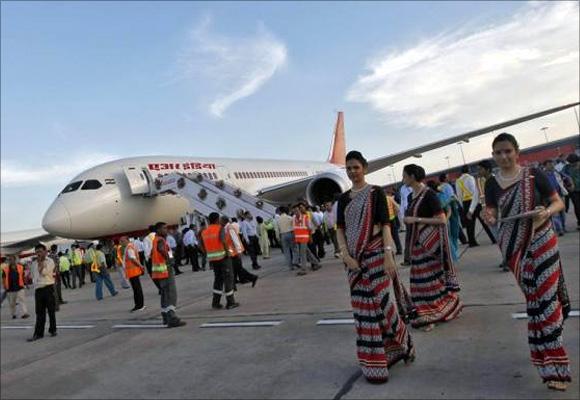 Air India said that it is likely to implement "restructured" pay scales for its staff from next month with a majority of its employees' unions having come on board on the proposal.
Further, looking to make its 20,000 employees accountable for delay in operations, the government has also decided to penalise those employees who are found responsible for such delays, sources said.
"We have taken the consent of four unions, which represent some 17,000 employees of the total 21,959 staffers. We are negotiating with other unions as well and hope they will also come on board soon. We expect the new restructured pay regime to be in place by March," Air India sources said.
Besides the officers' and engineers' unions, the two employees' unions -- Air Corporation Employees Union and Aviation Industry Employees Guild -- have also given their consent, they said, adding that the management has held 2-3 rounds of negotiations with the pilots' unions in this regard.
"We have also uploaded the proposed salary structure of the 1,000-odd technicians and expect their response by next week, whereas the same for the cabin crew needs to be finalised internally," they said.
The salaries of the Air India employees are being restructured in line with the guidelines of the Department of Public Enterprises, they said, adding that the "harmonised" wages will be on an average 13 per cent lower than the existing wages.
"But we have ensured that the basic pay and allowances of the employees are protected," they said.
Air India's wage bill, last fiscal, had stood at Rs 3,100 crore (Rs 31 billion). Sources also said that the decision to cut salaries of the employees responsible for flight delays was taken after 10-15 per cent of the delays were found to be on account of flight and cabin crew and catering and ground-handling issues.
"Under the Turnaround plan, at least 85 per cent of our flights should be on time. But the trend was worrisome. The civil aviation secretary, during a recent visit, found that 10-15 per cent delays were occurring on account of crew and ground-handling issues. So, the decision to cut salaries of such employees is aimed at bringing discipline and making them accountable," they said.
In the period between June and November of last year, Air India had cancelled 763 and delayed 6,513 flights.