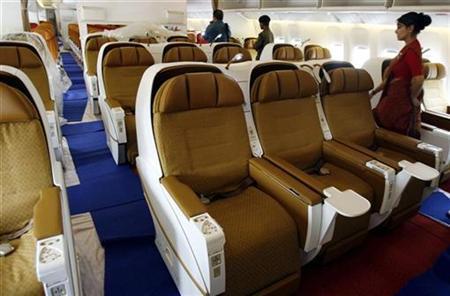 People walk inside the business class section of Air India's new Boeing 777-200 LR aircraft Photograph: Punit Paranjpe/Reuters
The troubles for government-owned Air India (AI) could deepen in 2015-16 if it doesn't get the expected infusion of additional capital.
The Union civil aviation ministry told a parliamentary panel recently that AI could default on repayment of loans taken for aircraft purchase if it did not get the entire expected equity infusion.
And, that this could mean a series of delayed payments to oil companies, the Airports Authority of India (AAI) and on repayment of interest on the government-guaranteed debentures.
The ministry said so to the standing committee on transport, tourism and culture.
In this year's Union Budget, Finance Minister Arun Jaitley had made a provision of Rs 2,500 crore (Rs 25 billion) for AI as additional equity infusion, against the airline's demand of Rs 4,277 crore (Rs 42.77 billion).
The government stated no reason for the cut. After this, AI wrote to Jaitley's ministry to have the remaining Rs 1,777 crore (Rs 17.77 billion) restored. It has yet to happen.
"Because of this deficit, the company will face a number of operational and financial difficulties," said the parliamentary panel. Also, it said, non-payment of government-guaranteed loans would meant invocation of the guarantee. And, the ministry said the situation would lead to "stressed liquidity or compulsory borrowings from banks."
"If we do not get funds, the airline may have to raise money from the market, which will have a higher cost," said a ministry official.
Also, the ministry noted banks' reluctance to "advance any monies to Air India due to strict Reserve Bank of India guidelines on single exposure norms".
The ministry said payments to vendors such as oil companies and airport authorities would also be delayed.
The result would be a threat to service AI only on a cash basis, with no more credit.
AI, in fact, accounts for two-third of the total dues to be paid by all airlines to AAI.
As on end-December 2014, the carrier owes Rs 1,892 crore (Rs 18.92 billion) to the AAI.
The parliamentary panel backed AI's demand for additional equity and said as the airline was "on the path of recovery and performing well, the government should provide (the extra) Rs 1,777 crore...during the financial year".
AI stares at an operational loss of Rs 2,171 crore (Rs 21.71 billion) in 2014-15, far short of the target of restricting this to Rs 1,200 crore or Rs 12 billion.
The losses had been reducing, from Rs 5,140 crore (Rs 51.40 billion) in 2011-12 to Rs 3,807 crore (Rs 38.07 billion) in 2012-13 and Rs 2,123 crore (Rs 21.23 billion) in 2013-14.
The government decided in April 2012 to grant the carrier a performance-linked equity bailout of about Rs 30,000 crore (Rs 300 billion).
Of this, Rs 18,400 crore (Rs 184 billion) has been pumped in and the rest will be infused by 2020-21.
The government, however, has been trimming budgetary support and pushing AI to break even.
In the interim budget last July, the government had earmarked Rs 6,500 crore (Rs 65 billion) as equity infusion in 2014-15. This was later cut by Rs 720 crore (Rs 7.20 billion).