The high tax on auto fuels is the primary reason for the record elevated petrol and diesel prices in the country.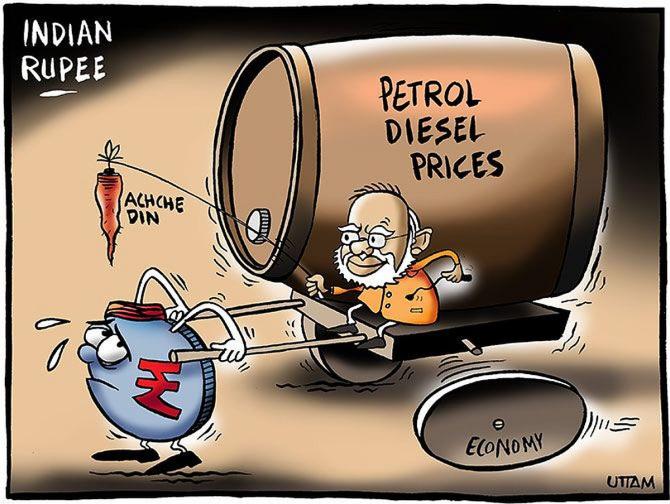 Government-controlled oil-marketing companies (OMCs) have held back petrol and diesel price revisions for a week and are expected to continue doing so, ostensibly owing to political reasons.
It appears that the Centre has informally conveyed to the three major OMCs to not revise fuel prices for the time being, two people in the government said.
This informal directive follows the talks between the Centre and states on cutting taxes and bringing the auto fuels under the good service tax regime not fetching the desired results, so far.
"Despite some states reducing taxes on petrol and diesel, such measures may not have a significant impact on retail prices," said a government official.
This step is being looked at through the prism of the crucial assembly elections, because of which the BJP-led National Democratic Alliance is facing pressure due to record high petrol and diesel prices.
Added to the auto fuel prices, the price of liquefied petroleum gas (LPG, or cooking gas) has also been hiked by around Rs 125 in less than a month from February 1, 2021.
In Delhi, petrol is sold at Rs 91.17 a litre and diesel at Rs 81.47 a litre from the beginning of this month.
Though the domestic retail price of products is linked to global product benchmarks, the price of crude oil has zoomed from $63.69 a barrel on March 1 to over $71 a barrel during this period.
The rupee, too, is inching higher, putting pressure on the margins of the companies.
It closed at Rs 73.31 against the dollar on March 1 and stood at Rs 73.36 a dollar on Monday.
The high tax on auto fuels is the primary reason for the record elevated petrol and diesel prices in the country.
This has led to calls for lowering taxes.
Facing pressure, the Centre has been repeatedly saying that it is having discussion with states on fuel prices because both levy duties on petroleum products.
West Bengal, which is having polls, reduced taxes by Rs 1 on petrol and diesel.
Assam, which is also going to the polls, withdrew an additional tax of Rs 5 imposed last year to fund the fight against Coronavirus.
While the oil companies are wary of being told to hold back price revisions, they hope to make the most of this difficult situation.
The finance ministry's call for relenting on increases is reckoning on some cushion that oil companies are having with the stable rupee against the dollar, possible inventory gains, and existing levels of margins that they make on petrol and diesel.
"The marketing margin should be seen on an annual basis rather than on a day-to-day basis.
"The recent rise in crude oil prices, if sustained till month end, will help oil companies in reporting significant inventory gains, which will partly take care of lower marketing margins," Sumit Pokharna, research analyst (oil and gas sector) and vice-president, Kotak Securities.
Given that the OMCs may not increase retail fuel prices in the near future in the light of the elections (in four states and a Union Territory) over the next two months, Kshitij Purohit, lead analyst, commodities and currency, CapitalVia Global Research, expects their operating profit margins to decline by up to 100 basis points.
But according to him, the OMCs would be comfortable in taking this hit on an annualised basis as Bharat Petroleum's operating margin increased from 1.5 per cent to 5.97 per cent, Hindustan Petroleum's from 0.68 per cent to 4.47 per cent, and IndianOil's from 1.35 per cent to 5.58 per cent.